How did you two get into riding?
Lance: From what my parents tell me, I fell in love with motorcycles almost immediately. I had toy motorcycles since I was a baby and would say "momo" repeatedly. I have two cousins who are a little older than I am and when I was young and saw them riding, I wanted to be right there with them. I was lucky to get their hand-me-down PW50 around age 5 and that's all it took to get me hooked for life.
My parents and sister were so supportive of my passion that we would load up the RV and spend every weekend chasing the amateur series across the United States. When I grew into my teens, my interest shifted from racing to doing more jumps and learning tricks. That was when I realized I wanted to make this my living and knew if I worked hard at it, my passion would become my career. At age 16, I became a fully sponsored Freestyle Rider and after many more years of competitions, challenges and growth, I won an X-Games Gold medal at age 23. Man, looking back on it, all that feels like a lifetime ago. Motorcycles carved the path to where I am today.
Juan: I got into riding because of my dad. My pop's has always had motorcycles (and still does). Because of him, my brothers and I were always around them growing up. Seeing my pop's go on rides and hearing the stories inspired me to want to ride. I couldn't wait to get on the road, at 15-1/2 I got my learners permit and have been riding since.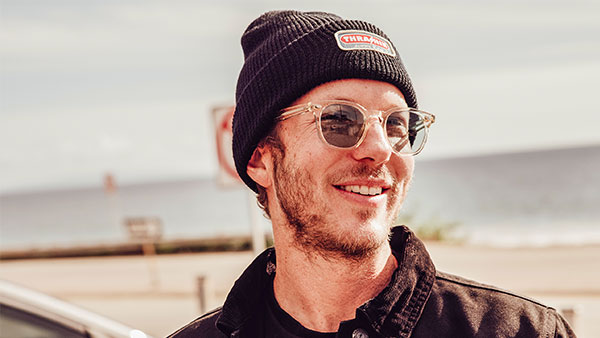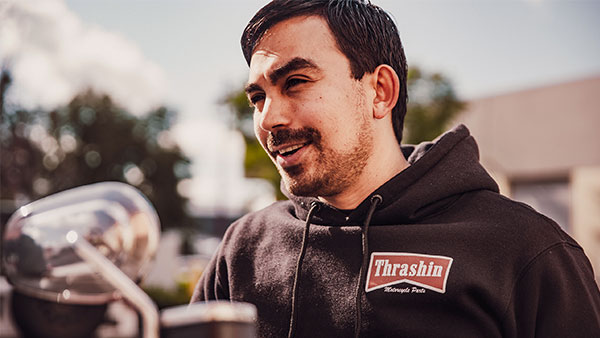 What inspired your transition from FMX and sportbikes to cruisers and Harleys?
Lance: As soon as I turned 15, I walked into the DMV to get my motorcycle permit. My love for two wheels didn't stop at dirtbikes, and I knew I wanted a garage full of motorcycles one day. I was looking for a way to feel that freedom of riding without having to load up a motorcycle and go to the track. A few friends of mine rode street bikes and a few rode choppers. After riding both styles of motorcycles, I found I enjoyed the cruise to the coast a little more than speeding through the hills, because really, I would want to take that sport bike to the track and ride it the way it was intended to be ridden. So, the choice of a V-Twin Cruiser was the direction I went.
Juan: The biggest inspiration to transition from Sport bikes to cruisers / Harleys for me was the desire to do longer road trips with friends. When we would go on "Rides" with sport bikes they were usually just to the nearest canyon and back, after 2 hours of riding a sport bike you're tapped out because of how uncomfortable they are. On a Harley we can ride as far or as much as we want.
What type of riding do you enjoy the most? And which bell do you wear and why?
Lance: I really enjoy any free time I get on the bike, searching for new places to eat, and doing it with friends. Whether it was for a few hours on a weekend or even better yet, a couple days crossing state lines, those times on the road are some of my best memories. After decades of riding with buddies, I found the SRT-Modular and it totally enhanced my experience on the bike. It gave me the protection of the full-face helmet I love and have always trusted but also added a level of freedom as well. I like that I can lift it for a minute of fresh air while riding or to chat to a buddy at a gas stop. Being able to do that without taking it off is a really nice feature.
Juan: My favorite type of riding is long distance road trips with friends. Once we all switched over to Harleys, we started planning week-long trips where we were riding 700-800 miles a day — looking for the best roads and Canyons the U.S. has to offer. For this type of riding, we needed a helmet that was modular, offered great ventilation, aerodynamics, and integrated with our COM system easily. The SRT-Modular checked every one of those boxes and quickly became our helmet of choice.
One of my favorite features is being able to pull up to a stop light and just flip up your chin bar and easily talk with your buddies or get a breath of fresh air, which is much needed after being on the road for 10+ hours at a time. The SRT-Modular also makes gas stops much faster since you don't have to take off your helmet when you're filling up, everyone knows once the helmets start to come off, you're not leaving the gas station for another 30–45 minutes.
Another great feature that made me fall in love with the Bell was the Panovision ProTint Shield, it's like having two helmets with you at all times, tinted when it's bright out and clear when the sun is down. This allows us to easily ride from sun up to sun down without having to have another helmet or shield on hand and having to swap them out. The ProTint is a game changer and makes riding that much more enjoyable, it allows us to keep crushing the miles.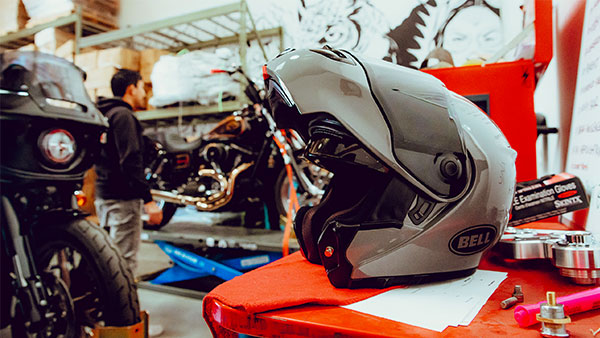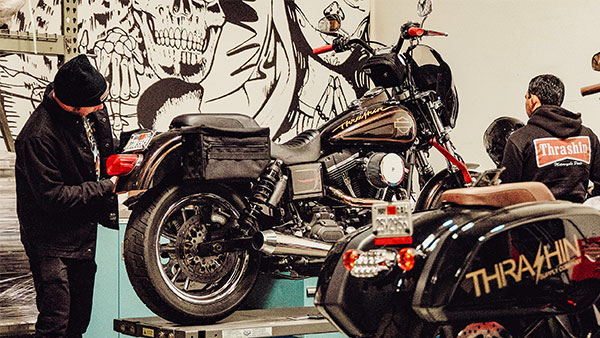 How did the YouTube Channel come to be and did you think it would blow up the way that it has?
Lance: The real push to start filming more of our day-to-day shenanigans came from Juan. When he joined the team at Thrashin Supply a couple years ago, he would always talk about how he watches "car guys" on YouTube and how our days are just as entertaining. He knew we were already doing fun stuff that like-minded riders would be interested in following along for and urged me to start documenting it. So, we did.
We started releasing Vlogs at the beginning of 2022 and dropped Forty-eight vlogs in the first year. Forty-Eight vlogs may not sound like much, but we are both still very much involved in pushing Thrashin forward every day, in creating products and running the business. Adding the filming and editing to our trips and then rolling content out has become a full-time gig in and of itself but capturing what happens in its' raw form and getting the positive feedback from fellow riders is worth it all.
Juan: The idea to start a YouTube channel came to mind when were hanging out at the shop working on the bikes, having a good time. Lance and I are always joking around talking smack to each other so whenever other people would come hang out with us, they would get a kick out of all the joking and smack talking. I figured, if it was entertaining for our friends, it could be entertaining for everyone else to watch.
I had no idea it would be as well received as it has been or that it would get as much traction as it did, but it has been an amazing ride.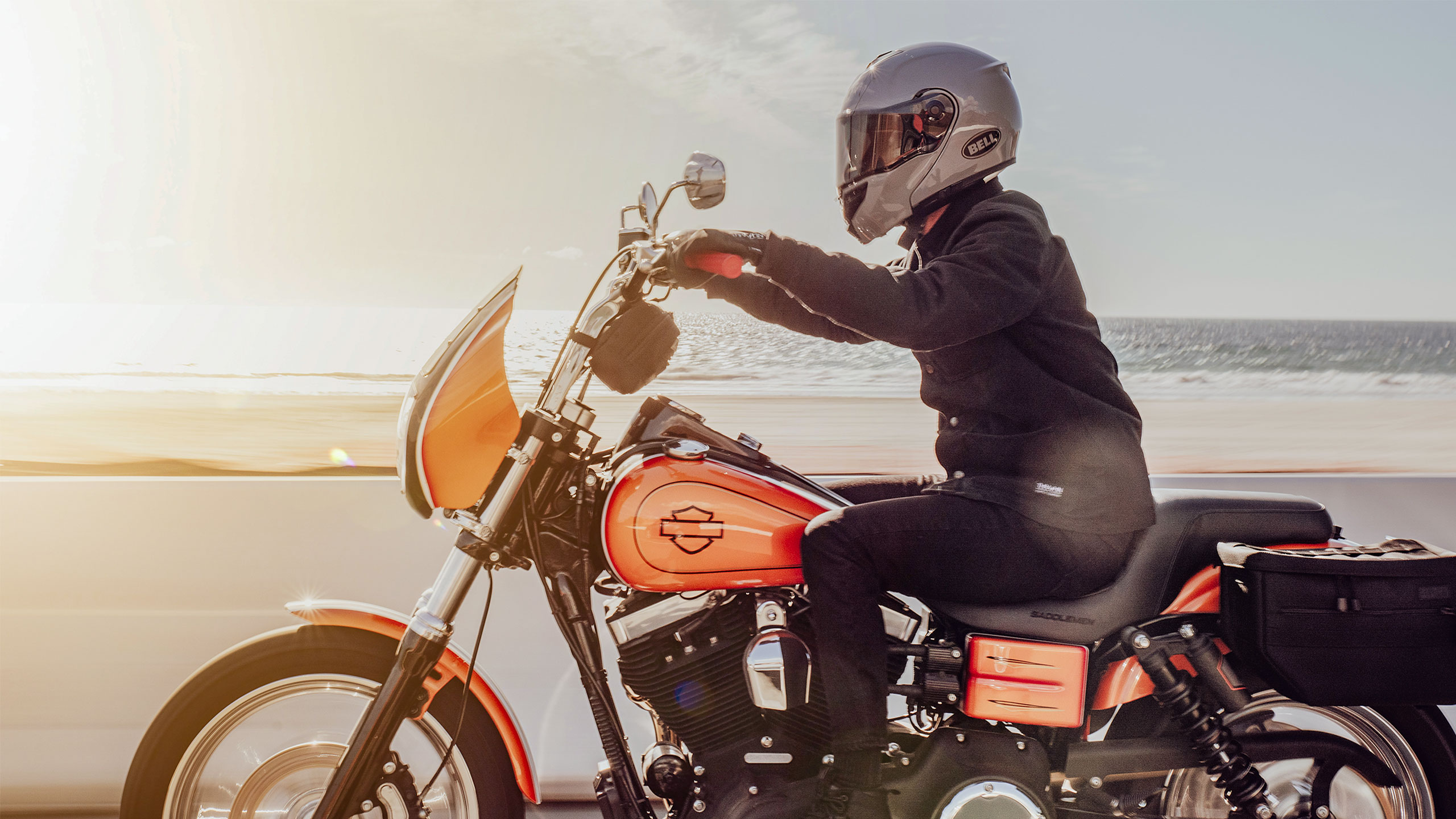 What are your must-ride roads in California?
Lance: That is tough to say, growing up in the San Fernando Valley, we have some amazing roads and incredible weather year-round. You can't go wrong when picking a route but I really enjoy a quick rip through the Santa Monica Mountains on Mulholland to Malibu. Or, if the coast is too busy, I enjoy heading North-East to Ojai. There is an amazing ride starting at highway 23 in Moorpark, CA that takes you through Filmore, and leads to the 150 up to Ojai, CA (the home of Johnny Cash). Those canyons are some of the best riding you'll find.
Juan: PCH from Santa Monica to Malibu (Neptune's) is my number one must ride road in California, you can find sunny coastal views, good food and fresh air year-round.
Mulholland Hwy to the Rock Store is also a must when visiting SoCal, it offers a fun twisty canyon ride with a great pit stop for lunch and more.
Ortega HWY to San Juan Capistrano is a great ride in the OC which drops you off right at the heart of San Juan Capistrano with plenty of options for food and drinks and even some historical places.
Who does a better wheelie?
Lance: Ha! Well, one of us is an X Games Gold Medalist in the Moto X discipline, and one of us has an Engineering Degree from Cal State Fullerton. I will let you be the judge. But either way, we both have a good time riding and an even better time designing and making new parts to use and abuse on our bikes.
Juan: Lance can do a better wheelie, but I can find better tacos. Give me a couple months though and I will be battling Lance for the best wheelies.
Best taco spot in Southern California?
Lance: After a year of riding to new locations and trying new taco spots, and if we are forced to stay in California and not cross the border … the best taco spot so far is a street vendor in the San Fernando Valley called Los Palomos. It is located on the corner of Sherman Way and Mason Avenue. It doesn't have a phone number, has no real address, but they claim to be there daily from 5:00–11:30. Our favorite taco is a Trompo De Pastor.
Juan: Although there are many great taco spots in SoCal, the best one I have been to so far is Tacos Los Palomos on Sherman Way and Mason in LA. They have a "Trompo" for the al pastor meat which gives the best flavor. They also have great salsa and drinks so it's definitely my favorite go to spot for tacos.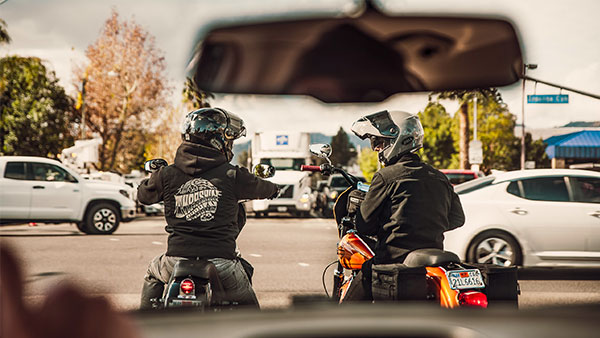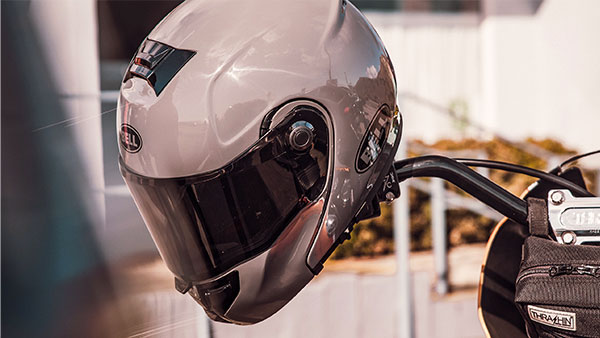 Thrashin Supply's Helmet