Meet Kelly McCaughey, the brain behind East Coast women's off-road event, Over And Out. What first started with an intimate circle of riding buddies learning the ropes in Kelly's backyard, has quickly spiraled into a nationwide collective, aimed at inspiring women of all skill levels to rip on a dirt bike. This year, we were stoked to join Over And Out on their latest endeavor centered around women in Motocross. The event was lead by Bell athlete and bonified ripper, Vicki Golden, and was celebrated by many new and seasoned riders for boosting their confidence through every whoop and tabletop. While Kelly gears up for another year of epic off-roading with ladies across the US, we sat down with the Over And Out founder to learn more about the event's early beginnings, the riding scene on the East Coast, and of course what we can expect next from her and her team.
Tell us a little bit about yourself, and how you first started riding.
My husband, Dan grew up racing motocross and riding in the woods, so he and a couple friends put me on a Honda XR100 and took me out to learn the basics. I took to it naturally, so they took me through a woods trail, and I just fell in LOVE with riding in the woods. I started riding some local motocross tracks, then making trips out to PA to ride some very technical coal country woods and trails.
Can you tell us a little bit about your first bike, and why you chose it?
That XR100 became my first bike. Yes, it was small, but it was what I needed to get started, and it made me a better rider as I had to build quick reflexes and core balance to get around on technical terrain. Soon enough I started to outride the capabilities of the bike and moved up to a Honda CRF150f, and then when searching for the ideal full-size bike for myself the Beta 200RR I currently ride was the clear choice.
This is why I'm so happy to have Beta Motorcycles supporting our East Coast enduro, woods, and dual sport event — because they have multiple models with features that are ideal for riding technical terrain and for riders of smaller stature.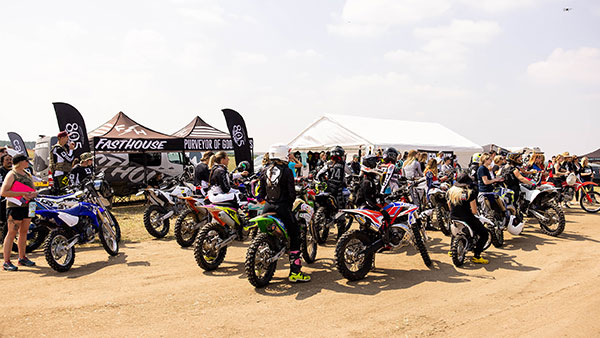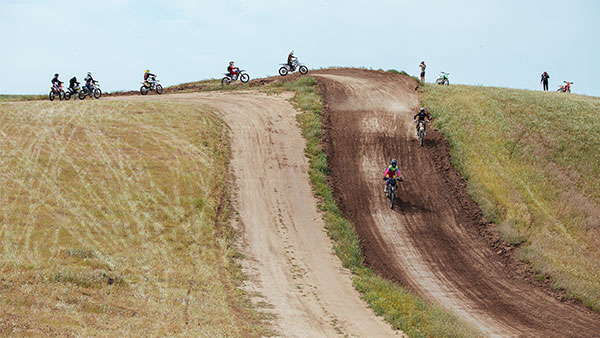 What Is the women's riding community like on the East Coast?
There is very little public riding land in the Northeast, so getting into riding in the first place can be a challenge unless you already know people who ride, race, or own land. This is why I created Over And Out, and the way the women's riding community has grown since is just incredible! Riding here is often slippery and technical, and the ladies in the riding community are surely some of the most positive-minded people who don't give up easily. I meet packs of inspirational women at every event we host.
How did Over And Out first come about, and what were some of your biggest challenges when the event first started?
Many of my female friends asked me where they could ride and how to get started, so I invited a bunch of them over and taught them the basics. That was such a fun day and a huge catalyst for me to make a public event happen. There were women I knew who had dirt bikes, and others who had heavier dual sports and adventure bikes, so building an event they could all participate in was my dream, and that's how Over And Out was born.
I executed the steps necessary to give ladies the environment, options, and support they'd need to get started with what they had, try new things, and grow. Building community was a huge piece of that because ladies are more inclined to do these things when they have a friend to do it with.
Sure enough land is a huge challenge in the Northeast, and we work hard to maintain positive, professional relationships with land owners and protect the quality of the lands we're fortunate enough to access for women.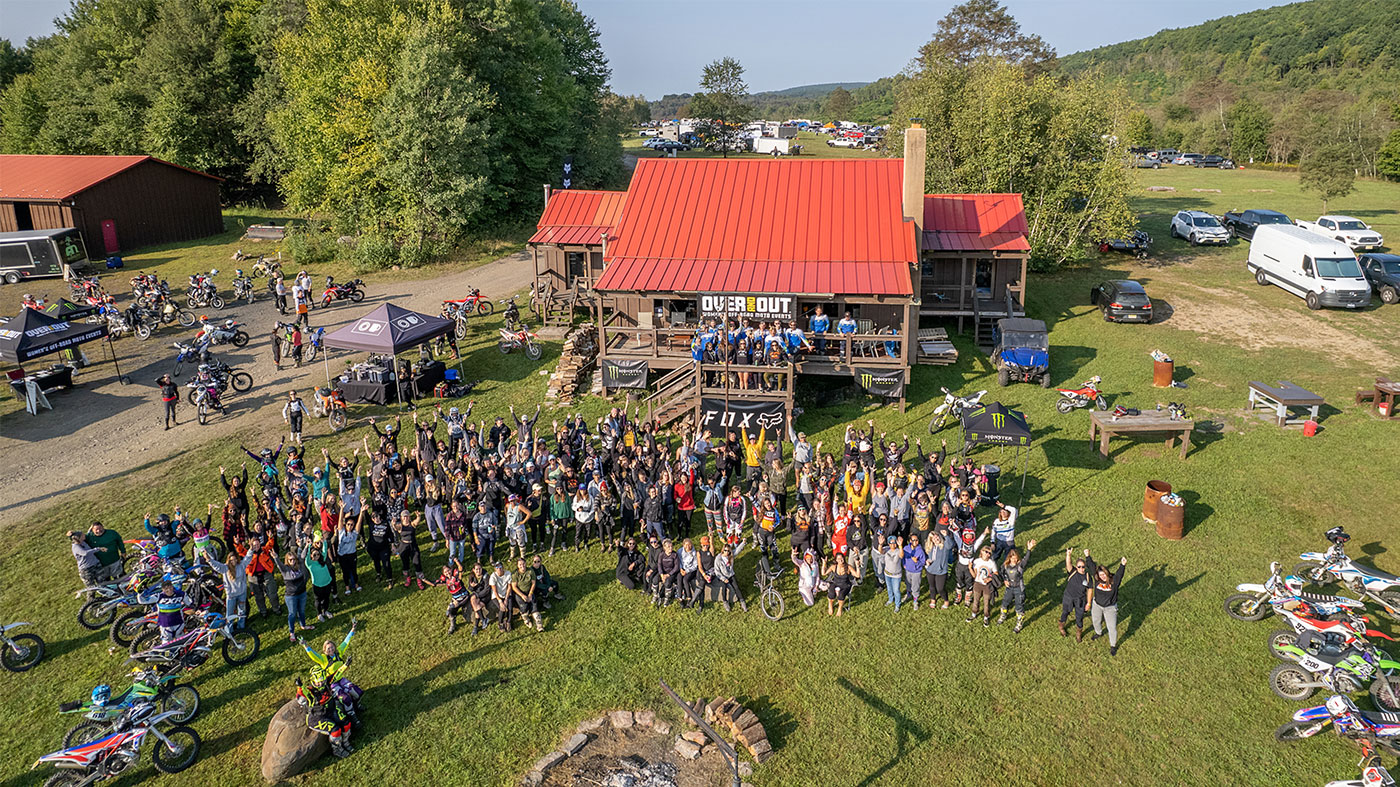 What's the biggest takeaway you want women to walk away with when they attend?
I've always said that Over And Out is about two things: riding and having fun. I want women to walk away knowing it's just that simple. Being able to ride and have fun is achievable. You don't have to be the best, you don't have to look the coolest, you just have to put in the time and effort. The rewards that come from that are monumental and that's what I want women to feel and translate back to their everyday lives.
How has Over And Out evolved through the years?
By our second year, our location, attendance, and event roster doubled!
Our flagship enduro, woods, and dual sport event continues to grow every year. We map, mark, and prep trails on thousands of acres of private property where, in addition to open recreational riding, we host guided group rides, activities, and lessons that get ladies connected with one another. We've always hosted lessons on site, because ongoing training is so important for all riders. This year alone we've filled over 200 lesson slots.
We also added off-shoot events like our Off-Road Training Campout, and Over And Out Moto-X, all of which have been sold-out successes.
Over And Out Moto-X is focused on Motocross, while still including dual sport and woods riders, and has given dozens of female woods and dual sport riders their first experience on a motocross track. This event quickly became a favorite event for our East Coast attendees, and when Vicki Golden joined us last year, she had a blast. We then partnered to bring the event to California to work with Vicki again and expand the OAO series even further.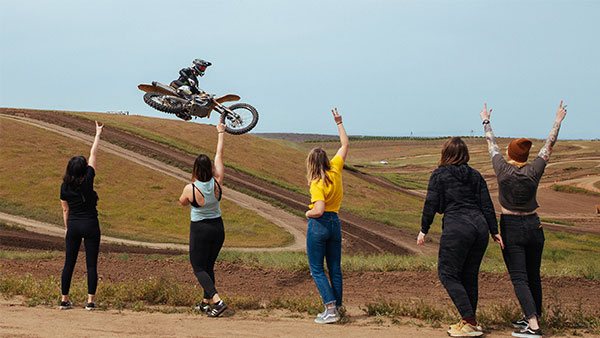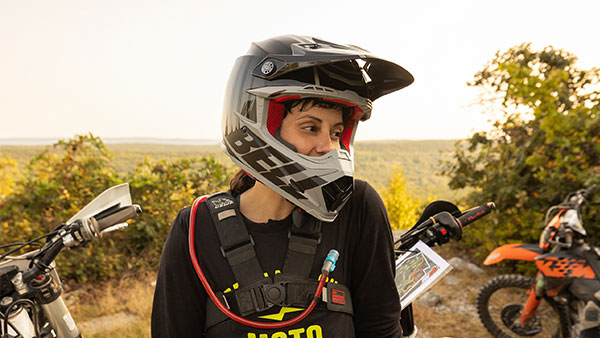 What was it like having Vicki there to coach and support event-goers this past year?
Vicki's presence alone is encouraging because she is astoundingly talented, obviously being the best female rider on the planet. When Vicki talks, everyone stops to listen.
She's also very calm and at least appears relaxed and composed to the core. So, to see the ease and style with which she handles the bike is a lesson it itself about how technique and mentality translate to riding.
At Over And Out we don't get hung up on the female identity or capabilities compared to males. Riding is about learning to ride the bike better or faster and having FUN doing it. So having the presence of a rider that's not just "good for a female, she's just GOOD" is a perfect fit for the way we engage our female attendees and set them up for success.
So what's next for you and Over And Out?
I cannot wait to share what's next for Over And Out, but at this time it's hush-hush! What I can say is that I'm constantly working to create epic experiences for female riders, and I don't see that stopping any time soon!
Featured Helmets