Who is Charlie Stockwell? Tell us about yourself.
I grew up in Putney, London, as one of six kids. My father was a painter and decorator, and my mum was a school teacher. I found a love for motorcycle racing, Formula One, and football (soccer) early on. It wasn't until I was twelve years old that I rode a motorcycle for the first time, though.
My brother-in-law, Ian, taught me to ride and then led me on to a career with Harley-Davidson and a strong passion for motorcycles in general. Twenty-six years later we are both still working with the brand. Outside of Harley-Davidson, I'm a huge racing fan. I loved watching WSBK when Nori Haga moved across from the Japanese Superbike series. I remember watching Valentino Rossi's first 125 Grand Prix race. He is a similar age to me. One year difference, so he's been my hero for all of my adult life.
I never really got into circuit racing like I would have loved to. But I recently started racing flat track in the UK National Hooligan Championship. I built a couple of H-D Sportsters and started a team, Stockwell Racing. Fun times, but I'd like to get into circuit racing again … maybe giving King of the Baggers a go someday soon.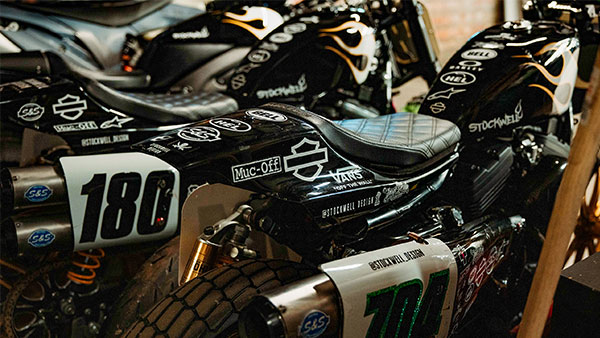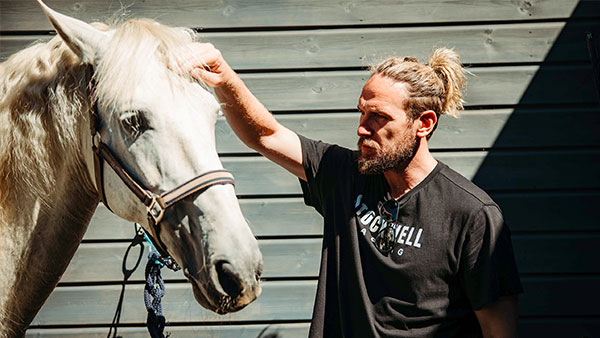 What have you been working on lately?
I've been learning to ride a horse! Something totally new to me. My girlfriend and I recently got a horse — a talented stunt horse called Centurian. I'd never been around horses before, so it's been a lot to learn and a huge responsibility but one of the best things I have ever done. Couldn't think of life without him now. Luckily Laura has been working with horses most of her life. She's a stunt woman in the movies, and one of her specialties is doing crazy stunts with and on horses.
I stopped working at the H-D dealership I'd been at for the past 26 years to take a break. I'll soon be back working, on and with two wheels, though.
You have quite a few special helmets. Can you tell us about a few of your favorites?
I do. I'm lucky to work closely with the team at Image Design Custom. We often chat about different designs we'd all like to try. Some designs are based on past or present moments in my life. Most carry a story of sorts, I guess.

My favorites would be my tribute James Hunt design Race Star. I wanted to carry his design on one of my helmets but with a little Stockwell twist. James Hunt was another racing hero of mine. One of my dad's too — not just for his race wins but his overall character on and off track. The black with the white flame. First of all, it was an honor to get to work with Bell, and then to create a helmet design was a dream come true. It was one of the toughest design jobs though, even though it may look simple. I've always had custom flames on my own Harleys, and it's since become a signature look.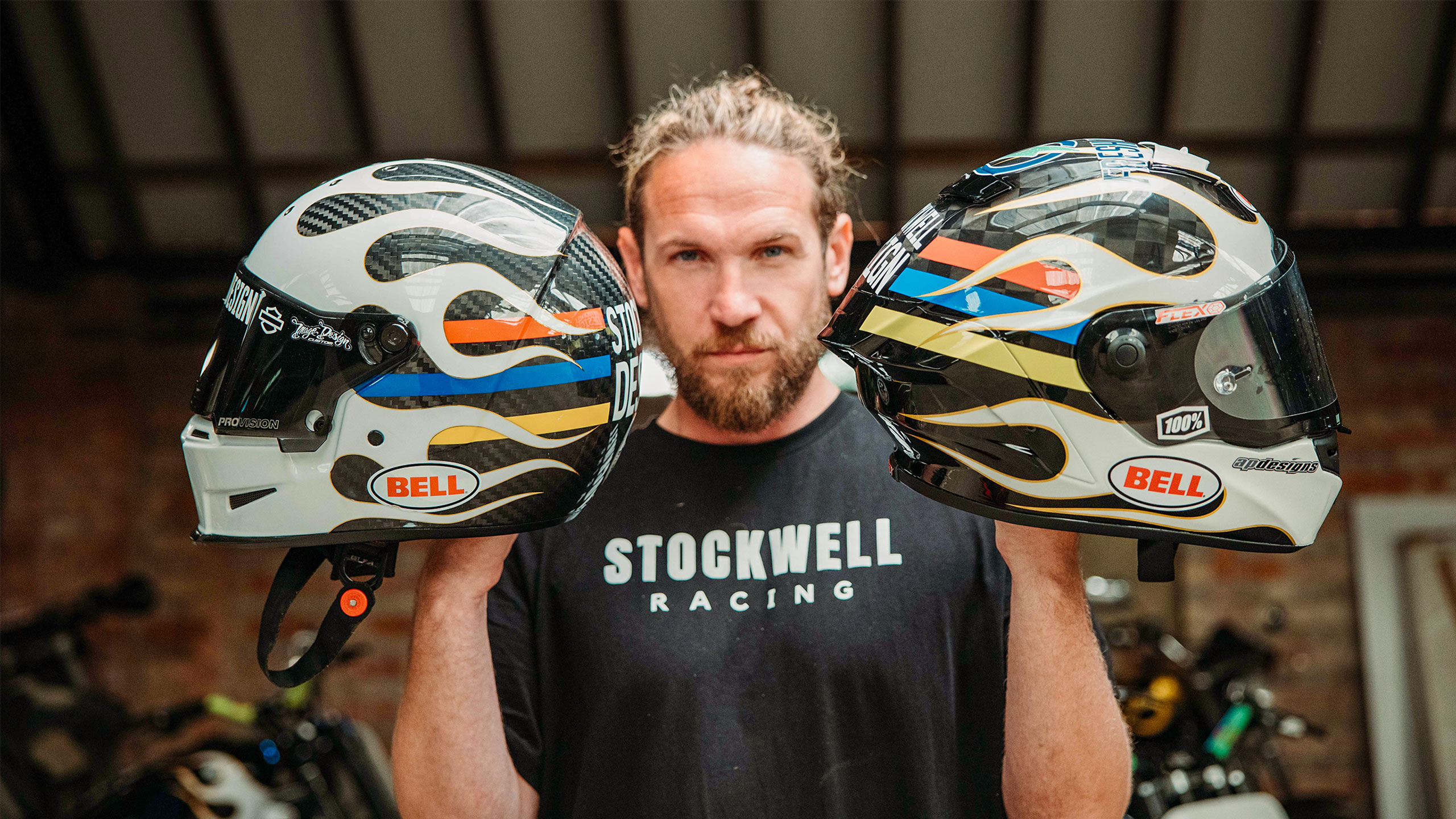 What has drawn you to the Eliminator as one of your favorite street helmets?
It's inspired heavily by the helmets Bell do for car racing, Formula One, etc., but as soon as you wear it on a motorcycle it becomes more aggressive. It's mean. Proper badass.
Apart from being a huge fan of the Bell brand, I was drawn to the Eliminator helmet for its raw "hooligan" look.
Charlie Stockwell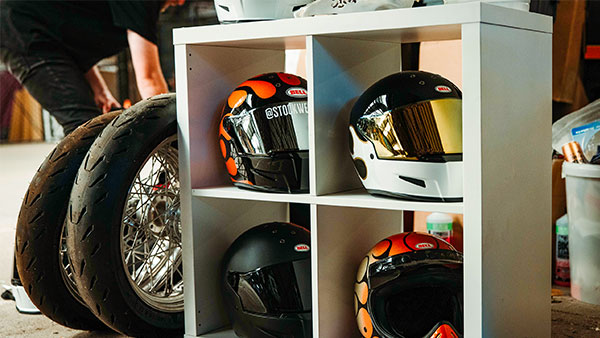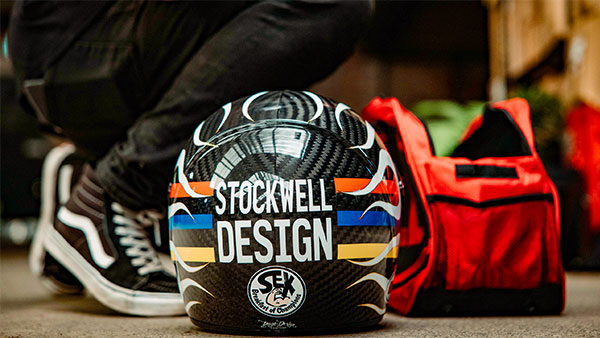 What's your creative approach when it comes to motorcycles and helmets?
I don't think I really have a process. Certainly not one that makes me sound like a smart designer. I tend to do what I like at that moment. I live my life around motorcycles and racing, so it's forever in my head. I guess the creative part is always working away when I don't realize it. The love for helmet design probably has a lot to do with watching Valentino Rossi throughout his career. He'd always have a special design to mark a special occasion throughout his career. His helmets were always pretty nuts.
What motorcycle are you riding most at the moment?
Right now, I've been riding a Harley-Davidson Pan America. It's perfect for me. Plenty of power and handles really well. You wouldn't expect it from just looking at it. I love the way it looks too. Real aggressive styling, and H-D's styling team have not gone down the road of making it look like all the other adventure bikes out there.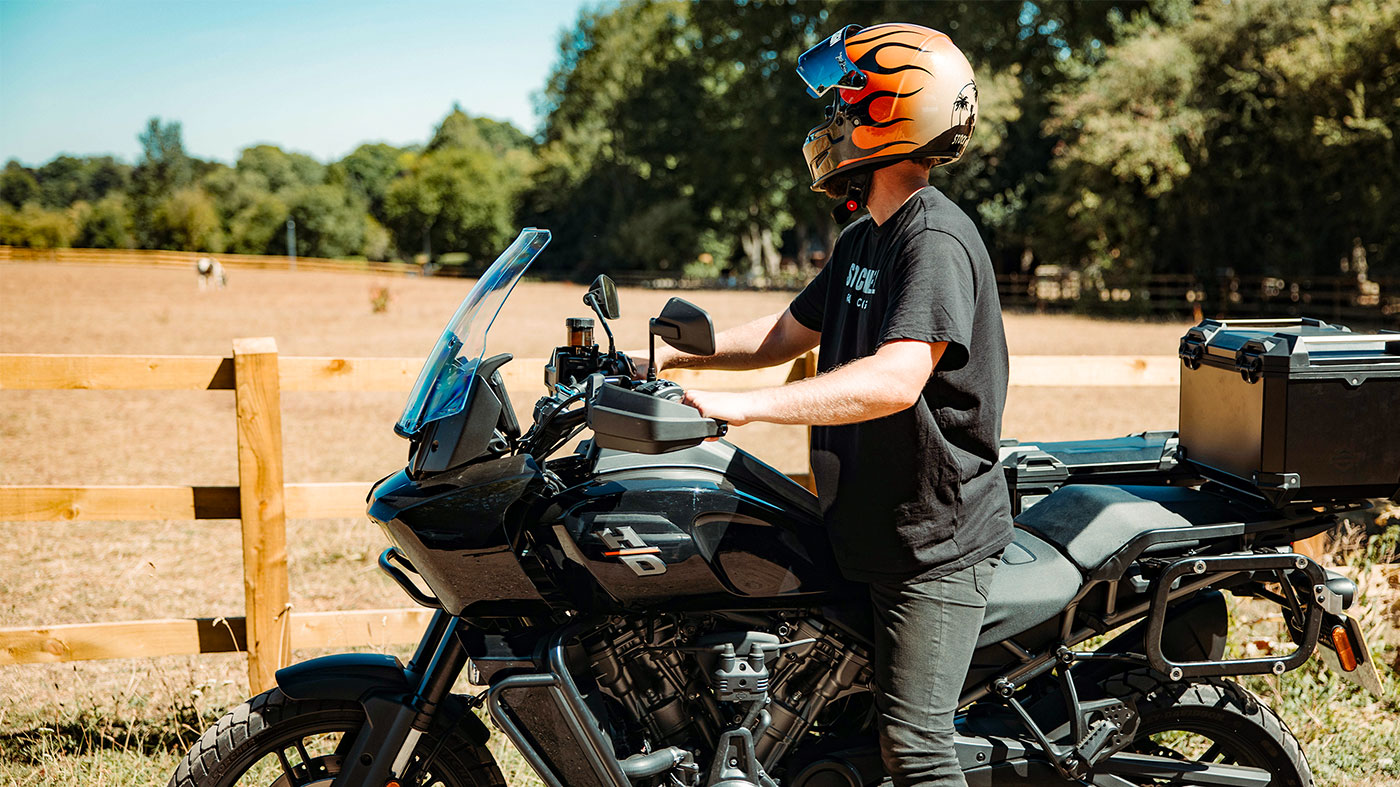 Any recommendations for must visit/ride locations in the UK?
There are so many. The UK is such a small island when you think about it. It doesn't take long to go from one end to another, and along the way you'll pass through hundreds and hundreds of years of history as long as you take the smaller A and B roads. Stay away from the highways.
If you've never done it, have a ride through central London. You want to be a confident "lane splitter," or you'll get nowhere. We have so many cool little spots over here. Pubs that have been around for hundreds of years and cool markets on the weekend. … Just watch out for the Uber drivers and pizza delivery riders that aren't looking out for you.
What's on the horizon for Charlie Stockwell?
I'm itching to get back working on motorcycles. I've had a few months away resting and a little bit of traveling. You'll have to wait and see in the next month or so.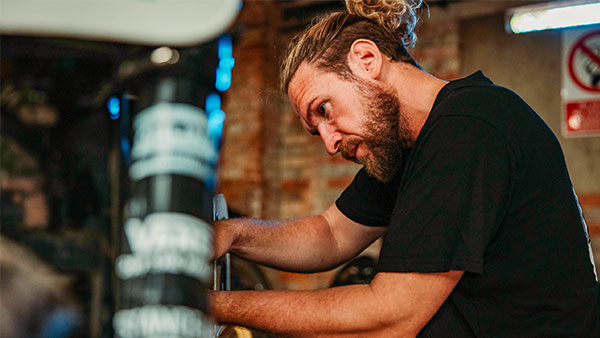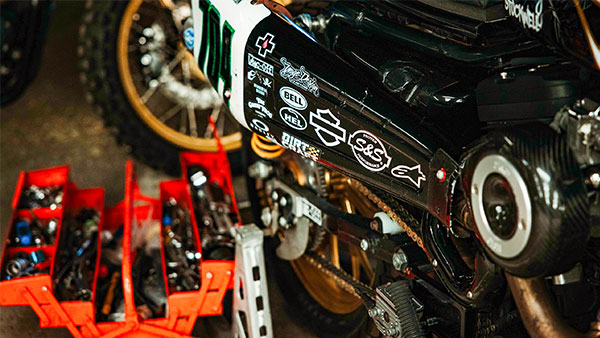 Photos by Shyam Rajdev.
Featured Helmets