Who is Hello Cousteau? How did you come up with that name?
Hello Cousteau is a bored interior designer making all kinds of stuff. Well, I used to be bored but these days I've got so much work I don't have time to be bored anymore. The name Hello Cousteau comes from my childhood. My very first concept of fashion and style originated when I was a little kid — I used to watch nature documentaries of Jacques-Yves Cousteau, the French oceanographer, when I stayed my grandparents' house. That red beanie got stuck in my mind!
What drove you to begin designing your own helmet graphics?
I ride motorcycles and a few years ago I needed a new helmet. When I went to a few stores and couldn't find a single helmet I liked, I had to do something about it. I mean, the stuff available was either tribal patterns or helmets with crazy colors with number 46 splattered all over them. So, I did a few mockups at home and shared them on Instagram. When I started, I had three or four people following me (thanks!). When I woke up the next day, the page had exploded overnight, and I was flooded with messages.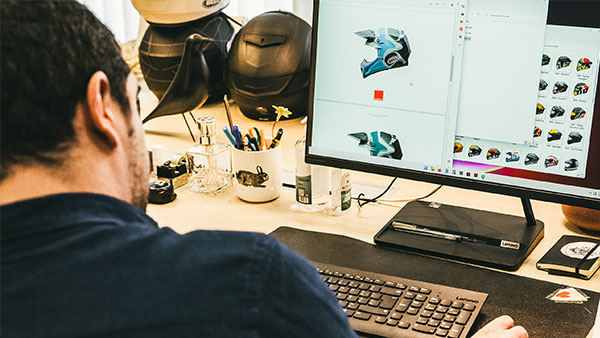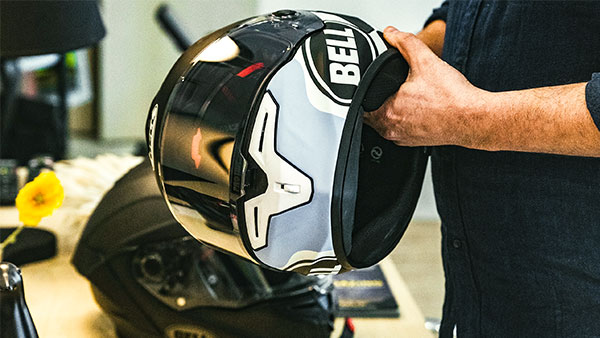 What experiences or interests have shaped your inspiration and designs?
I think my work gets focused on two very different things and times. A lot of my minimal work gets its inspiration — again! — from my childhood. During the weekends in the late-80s/early-90s we had a family ritual — where every Sunday at lunchtime the TV was always on with Formula 1!
If you ask me about today's F1 helmets I'm clueless about what they look like, yet I can clearly picture in my mind the shapes and colours of helmets of the likes of drivers Piquet, Senna, Prost, Mansell, and other icons. All those helmets with bright colours were so easily identifiable from a distance and were extremely important in forming my current design aesthetic. I can name most F1 racers from the 60s/70s/80s/90s just by looking at their helmets. I don't know if I can do that with any current F1 drivers — that individuality and freshness in design is gone.
My other source of inspiration — and probably the biggest one — is nature. I live by the beach, I work by the river, and in between these places I have trees and gardens. I have very few design books at home, yet I have dozens of biology and nature books. I don't find the work of other designers interesting for my own work, but I do find birds from the Paradisaeidae family super interesting for instance. I take inspiration from my surroundings and give them a bit of my own aesthetic. Everything is organic and I try to stay away from flawless pixel-perfect designs. Even though almost everything is made using a computer, I try to add small imperfections to my designs, almost like they were an actual hand painting. I believe this way they seem more natural and organic.
How do you work with designing around a helmet's shape?
I'm used to working with 3D shapes. I graduated with a degree in industrial design and my early career was spent designing things that you can touch and feel — every millimeter mattered. So, I'm aware about the complexity of a helmet shape. At the same time, it can get tricky for me to put my ideas "in paper," since I am not a graphic designer. Occasionally, I end up reading the software manuals just to understand how to try out certain idea I have.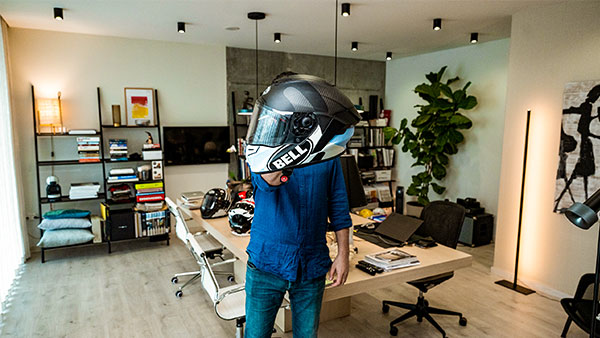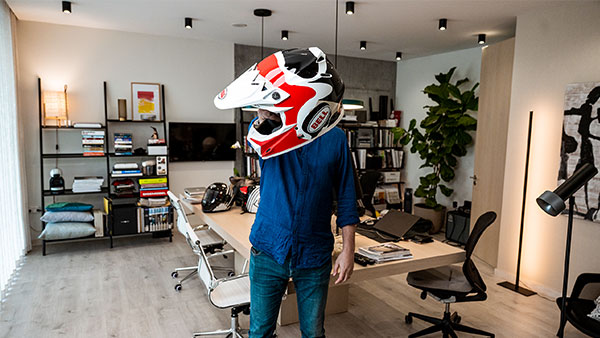 You named the Race Star graphic Algae and the Moto-9s Flex graphic Reef — what is the significance of those names?
These two helmets were directly inspired by my surroundings: the ocean. Going to the beach in the area where I live, there are always a bunch of seaweeds not only in the water but also in the sand. They have all these weird tones and shapes especially underwater when we dive. Both these helmets were inspired by them.
Any other projects you have in the works that you can share?
Oh, the year is just getting started and I'm already getting packed with work. Both for interior design but also for Hello Cousteau. Even though I can't really go into detail, I was commissioned to create both helmets for pro racers and liveries for motorcycles/cars. I'm getting a lot of contacts lately from professional racers and track day enthusiasts, so this part of the job is booming for me now. The first project of this year was a Bell RS7 Carbon auto helmet for Saud Al Saud — a Porsche GT3 racer for Saudi Racing!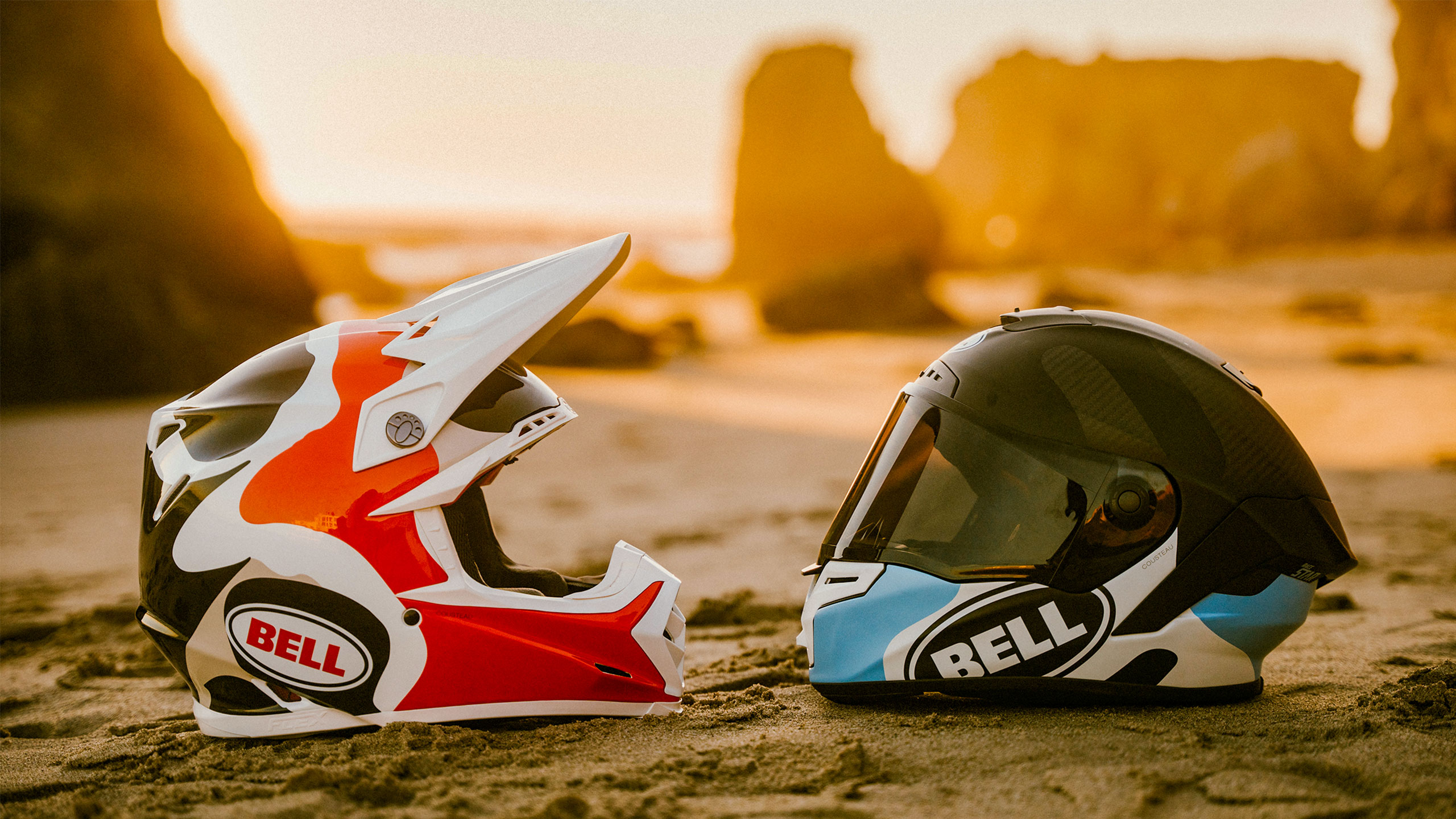 Bell + Hello Cousteau