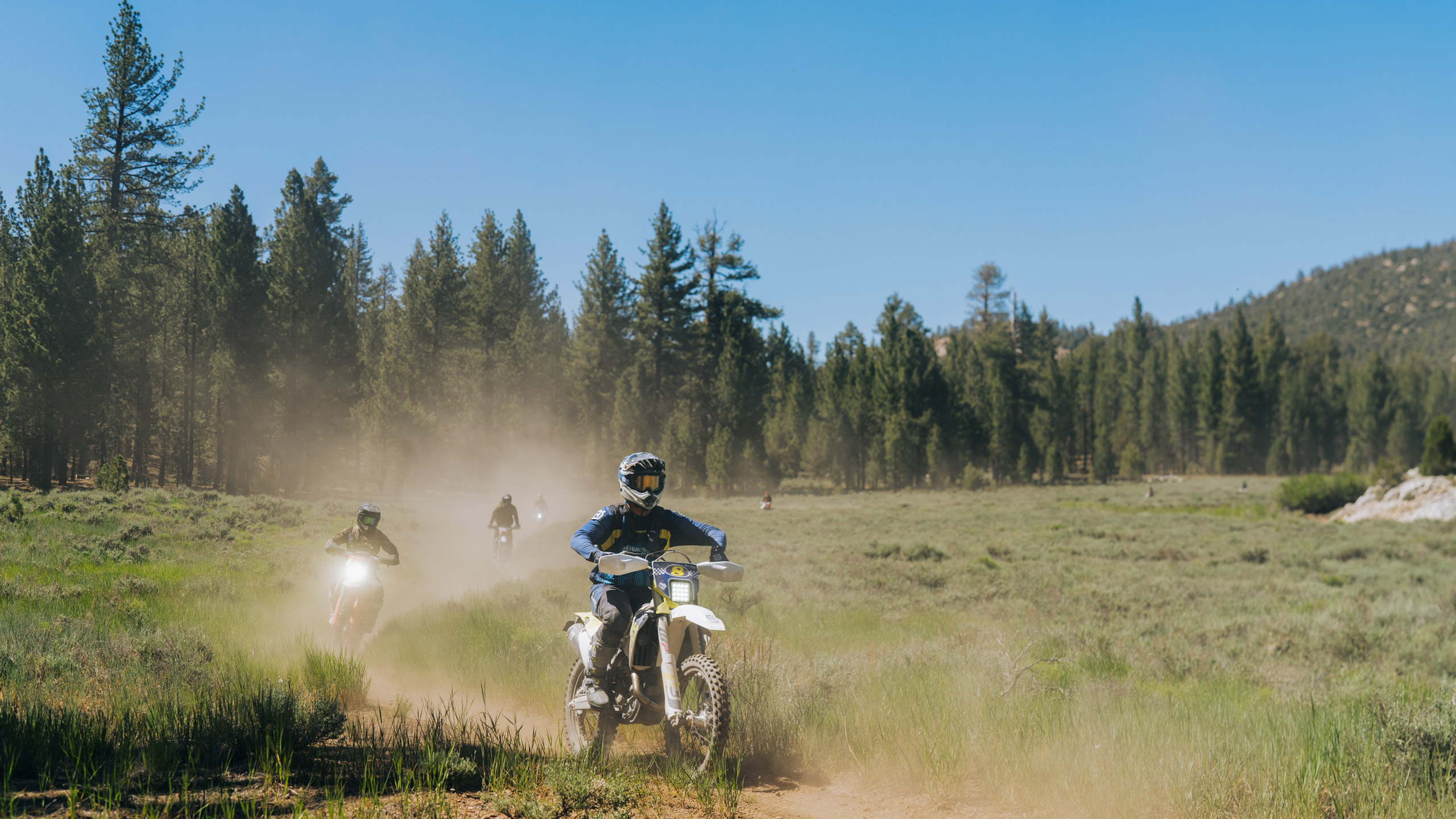 Deep in the mountains of Big Bear, California resides a unique off-road experience designed to be intimate and challenging for women who live and breathe dirt bikes - "Dual Sport Summer".
While the event has captured the attention of off-road enthusiasts across the US, its reputation precedes it as being one of the most exclusive and demanding women's-only moto rallies in the nation with limited attendee spaces, and some of the most technical OHV trails Southern California has to offer. This year, we were proud to join the event lead by partners, Babes In The Dirt, and share this unique experience with two riders with very different two-wheeled backgrounds.
Check out what the girls thought of their weekend at Dual Sport Summer…
Meet Becky Goebel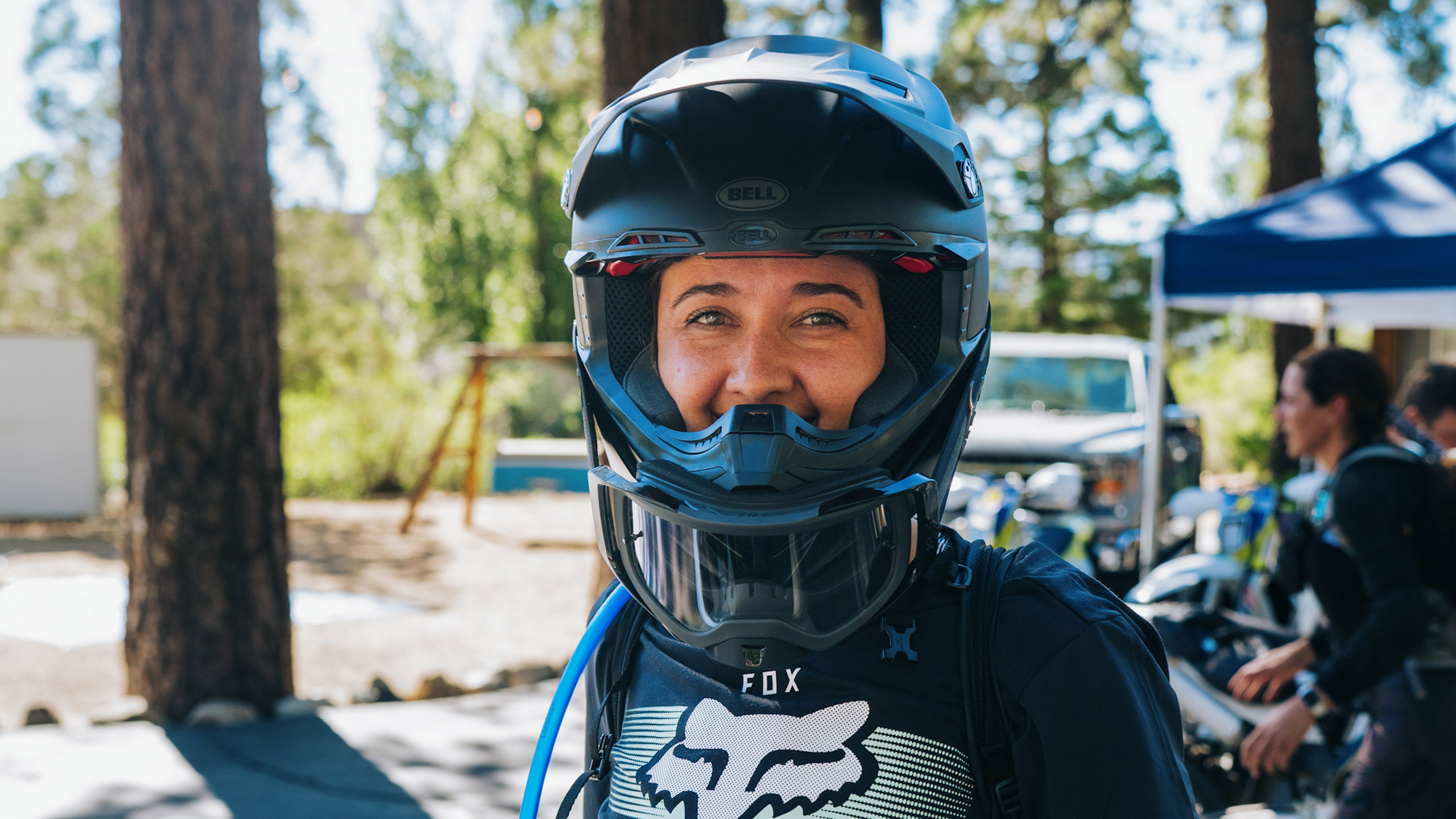 Becky Goebel is a Canadian-born chopper queen whose been riding motorcycles ever since she could walk. This self-proclaimed "Professional Biker" has spent the last decade traveling all across the globe sharing her love of two wheels, while building and racing road bikes from Born Free to Royal Enfield's Build.Train.Race program. While Becky's no stranger to all things "motorcycle", her aspirations span far across the pavement and into the loose and fast world of Dirt Biking. So, the moment finally arrived – Dual Sport Summer was the chance for Becky to fall in love with the off-road.
From riding them to building them, you've been around motorcycles your entire life, and for the most part, you've kept two wheels on the road. What would you say your initial draw to off-roading was?
I love learning and progressing my riding in any way possible. I never really knew what type of Dirt Bike to buy or try out, and never had all the gear or even a truck. I also didn't really have any friends who were pushing me to get into it, so I just never really did it. Dirt Biking is something that has always been missing in my roster of motorcycle skills, so I was so happy to get the opportunity to go to Dual Sport Summer with Bell.
Many people don't realize that you've ridden a dirt bike before – your old 1976 Yamaha XT500. Can you tell us a little bit about the bike, and your experience taking it off-road?
I bought that bike when I was young and just got it 'cause I thought it was cool. I don't think I ever really bought it to go off-road. But once I had it, I was popping wheelies and hitting side hits and curbs around town like a little brat. I had a few friends in Vancouver who all had the same bike. They invited me to go on an over-night off-road trip with them and I thought, how hard could it be? I realized quickly that dirt biking is a SPORT, and you need gear, and you need strength and stamina and skills. I had none of that. I remember hitting some big rocks and my bike bouncing one way and my body bouncing the other. Then trying to kick start it without being able to hold it up properly on the side of a cliff. That bike was just not practical for me and not set up for my weight. My beers and food all broke on my bike, and I didn't have the gear to bring the right camping gear so I just slept on the ground, sore and scared as hell in the middle of the woods haha. I loved being out there though, but knew I needed to have a proper bike, gear, knowledge and a more suitable group of friends in the same skill level. About 10 years later that's exactly what I got at Dual Sport Summer!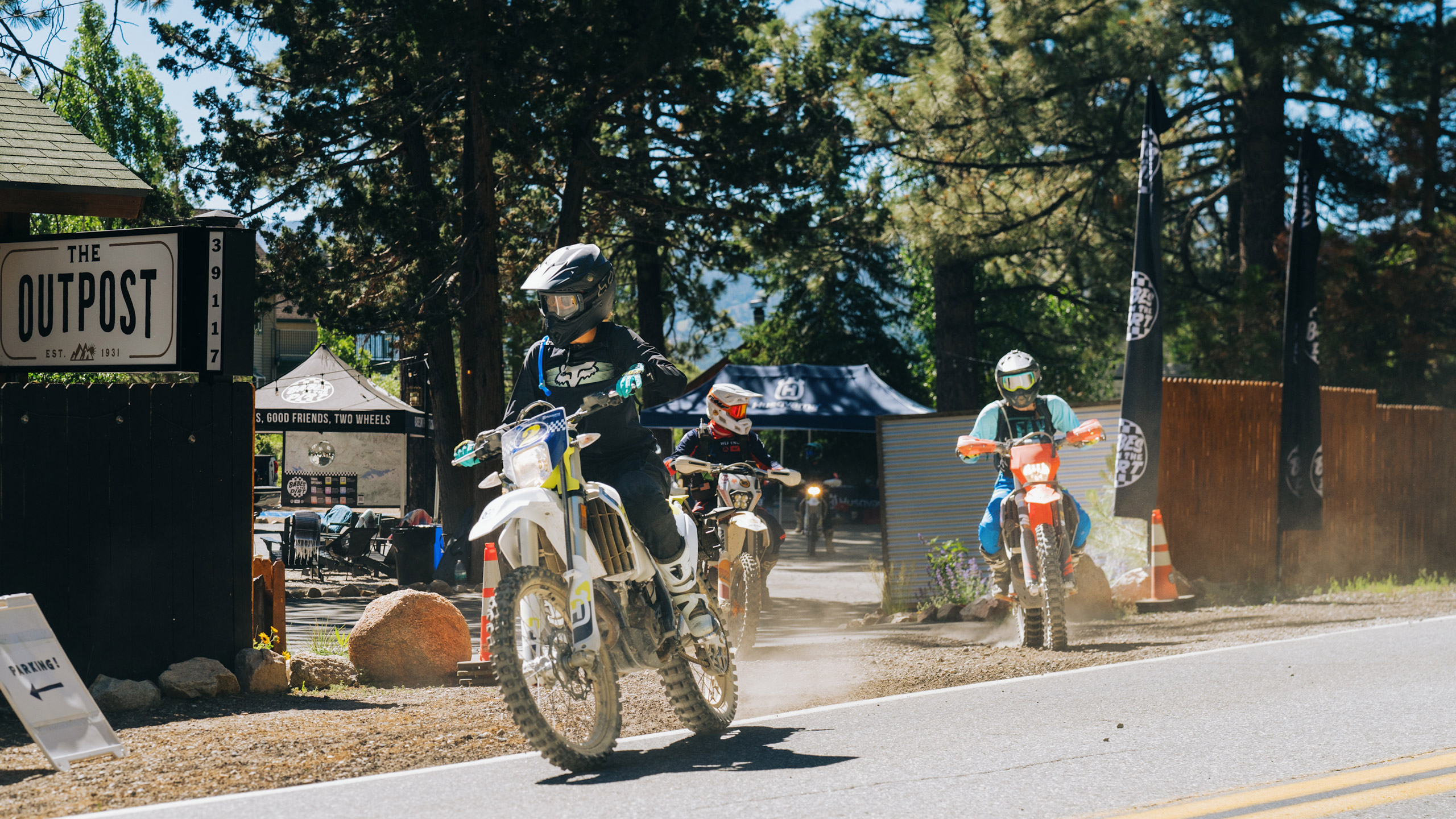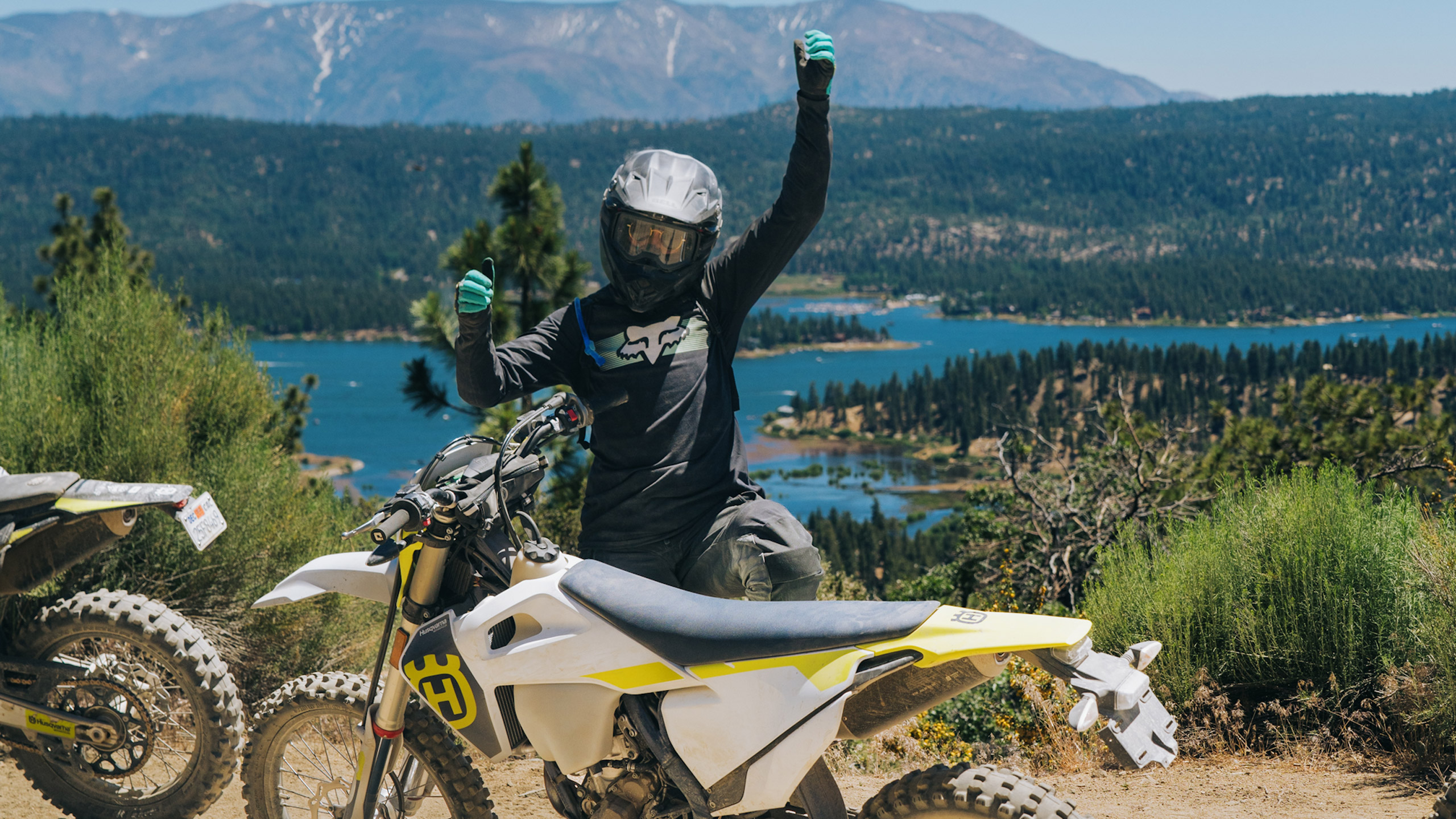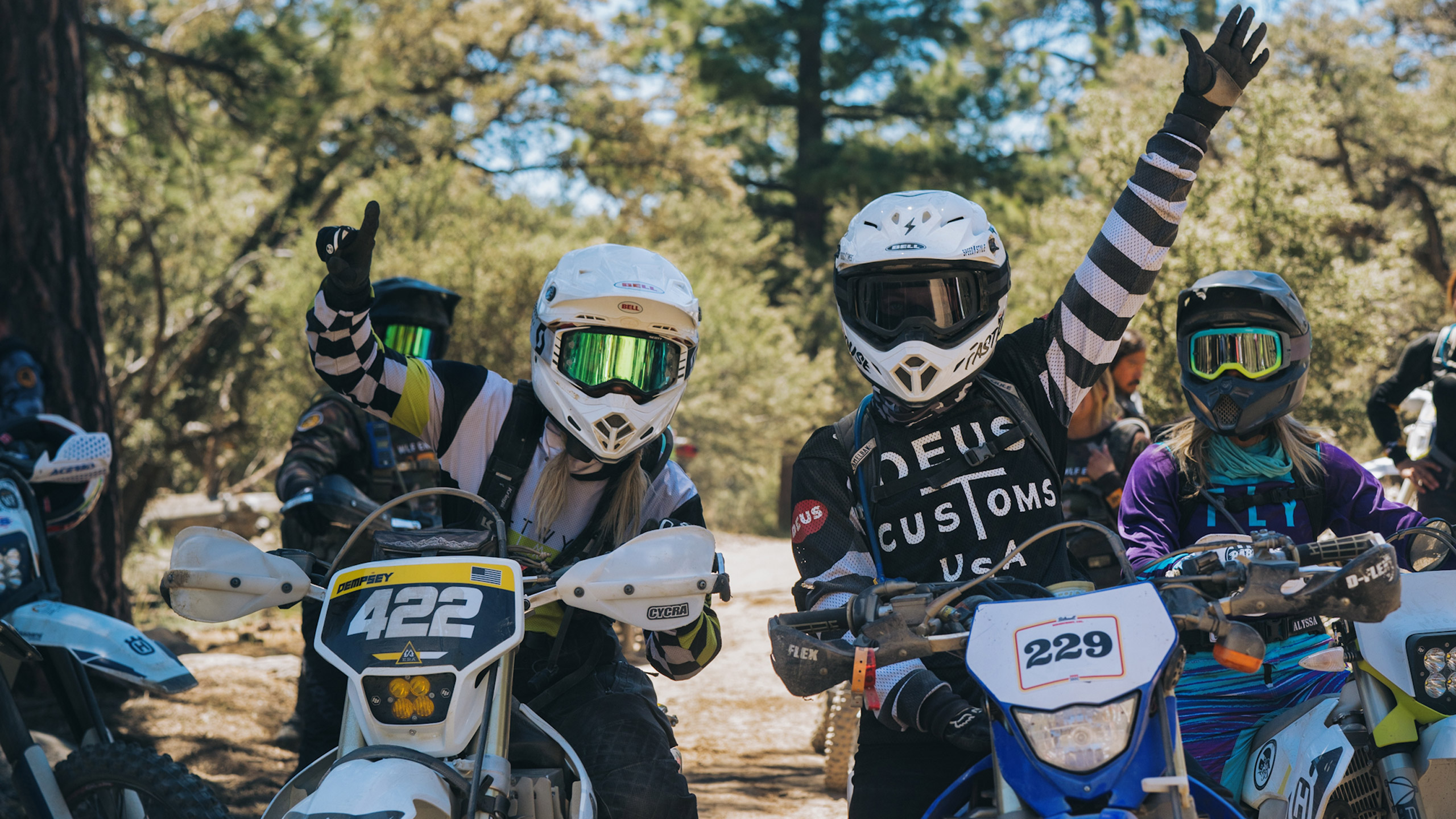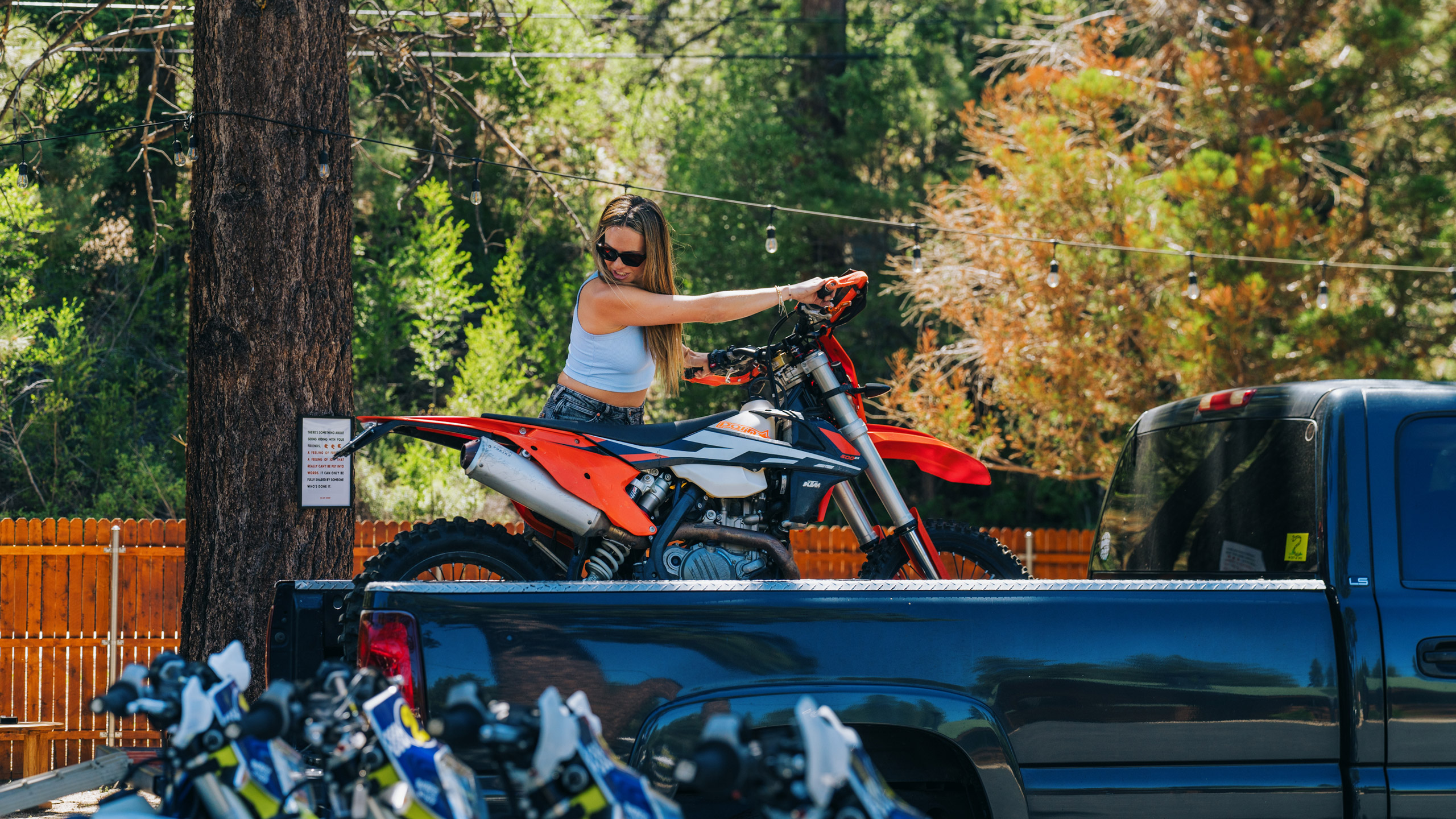 Were you nervous at all about attending Dual Sport Summer? If so, why? And if not, did you go into the experience with any goals or expectations in mind?
I was a little scared of getting hurt for sure. But I think everyone is a little scared before going on any type of ride. I tried to have no expectations and wanted to not psych myself out or get in my head too much. My goal was to have fun and stay within my personal skill limits and not get hurt. Mission accomplished I'd say.
Can you share a little bit about your experience from Dual Sport Summer 3?
It was probably the most fun I've had all year. The first day the scared-ness kind of out-weighed the fun but then the second day the fun was so high I totally forgot about my fear the day before. It reminded me of what I love about snowboarding back in the day - chasing my friends through the unknown, hitting side hits, and getting that adrenaline up… forgetting about everything else going on in life 'cause if you don't focus, you're crashing. The days were super action packed and by the end of the day you're READY to get back to camp for a beer. I loved the vibe at camp and the food and being up in the forest by the lake. It was just a good vibe, made me FEEL ALIVE!!!
What would you say your 'Rose & Thorn' (high and low) of the weekend was?
I love this "Rose & Thorn" thing we did around the campfire at DSS, and think it's an awesome thing to practice on a daily basis - I've been doing it every day since. ANYWAY…
Rose - I was chasing two women in my beginner's group and we hit an unexpected "spicy" (as Anya would say) section with a bit bumpy hill climb. None of us were expecting it and the two women in front of me crashed and I was already halfway up the hill. I had to slam on the brakes on a big incline. I didn't really know how to maneuver the bike or even what to do. Anya came up behind me, threw her bike on the ground and came up beside me and instructed me perfectly how to turn around and get back down the hill. I got down then she helped me turn around by showing me how to ride up the hill a bit to get momentum. It all happened really fast and was done so well on her part, and I never got scared at any moment and just sent it up the hill with my confidence in tact and made it to the top unscathed. It was just such a memorable and fulfilling moment.
Thorn - I got a bit too much confidence and hammered around a corner too fast right into a rut and went down pretty hard. I pushed myself a bit too hard and lost focus, like I said I wasn't going to do. I smacked my hand and head but was okay. It was nice to get it out of the way but then I had trouble picking up my bike. I got some help from the WLF boys and it was all good. Honestly, not even a thorn because I'm glad it happened but in the moment, it was hot, scary and uncomfortable for me.
What was your biggest surprise about riding in dirt?
The biggest surprise is how amazing those Husqvarna's are. They are such amazingly capable machines. I couldn't believe what that bike could do if I just let it do all the work. I don't often get to ride bikes like that, so I was completely blown away and am craving riding another one.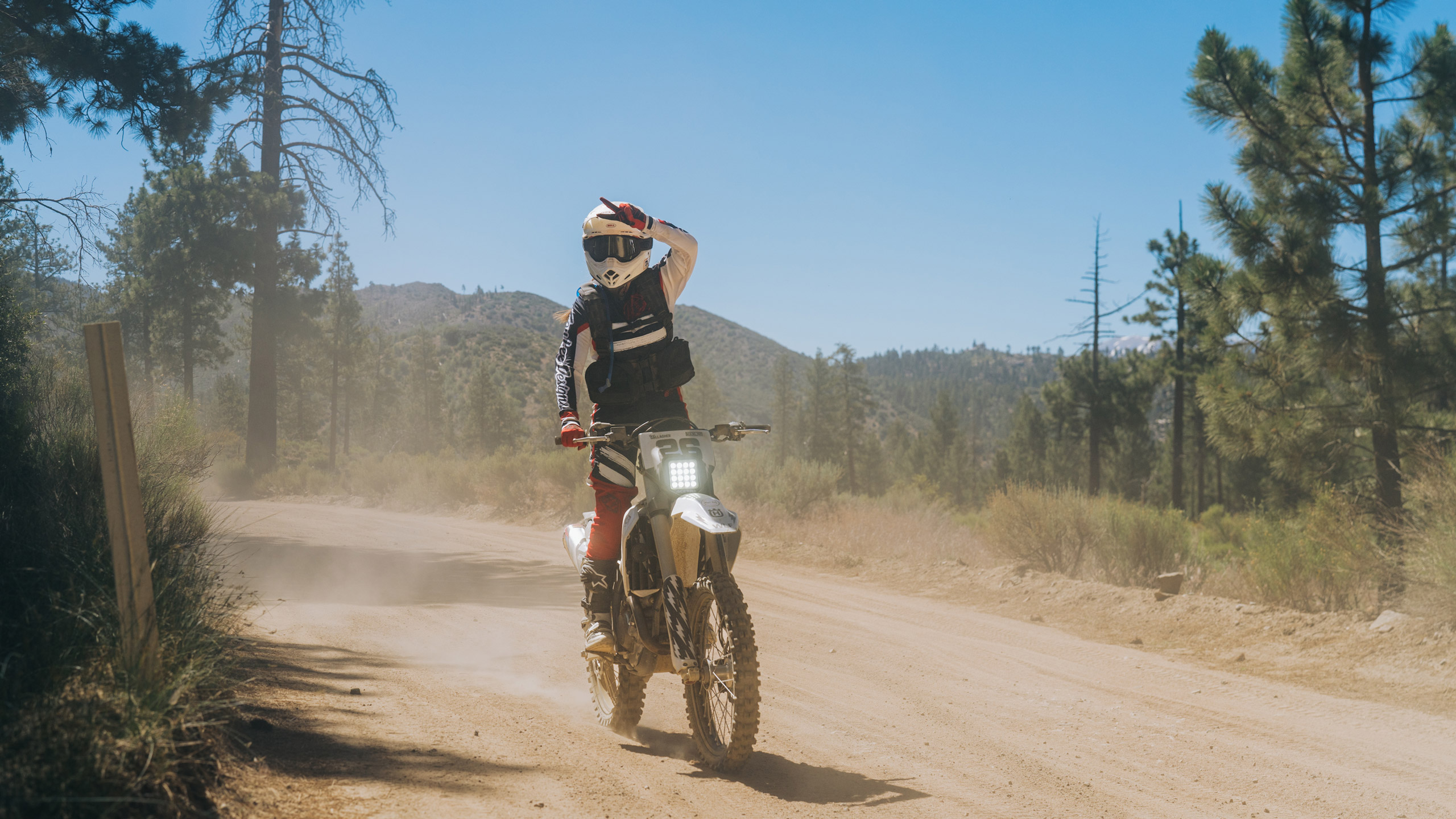 Do you feel the skills and technique you learned from Royal Enfield's Build.Train.Race road racing program benefitted your dirt bike riding at all that weekend? If so, could you talk a little bit about that?
Every way you can expand your skills will add to your riding ability. I notice myself doing things I learned in that program on the street, on the dirt, driving my car etc. I love learning and getting better at all things I love. I truly just love motorcycles of all types.
Did you learn anything about yourself from the trails?
Well, I thought I was going to be better than I was and I got humbled really quick. I love learning about what I am capable of doing and what I'm not. I learned where I can improve and where I have natural capability. I learned that I need a lot more water than I think in a day and, that I really really like Uncrustables.
If you could give advice to another girl interested in dipping their toes in dirt biking, what would it be?
Try going to an event like this with other women who are at the same skill set at you. Invest in good, comfortable gear that will keep you safe so you can try everything you want without getting hurt. Take your time, ask a lot of questions and do it because you truly want to, not for any other reason other than you really want to learn! Also, just go for it! We are so entirely capable of doing anything we want. I love seeing women get into new things, that's what life is all about. Get out there and live it up ladies.
Meet Malary Lee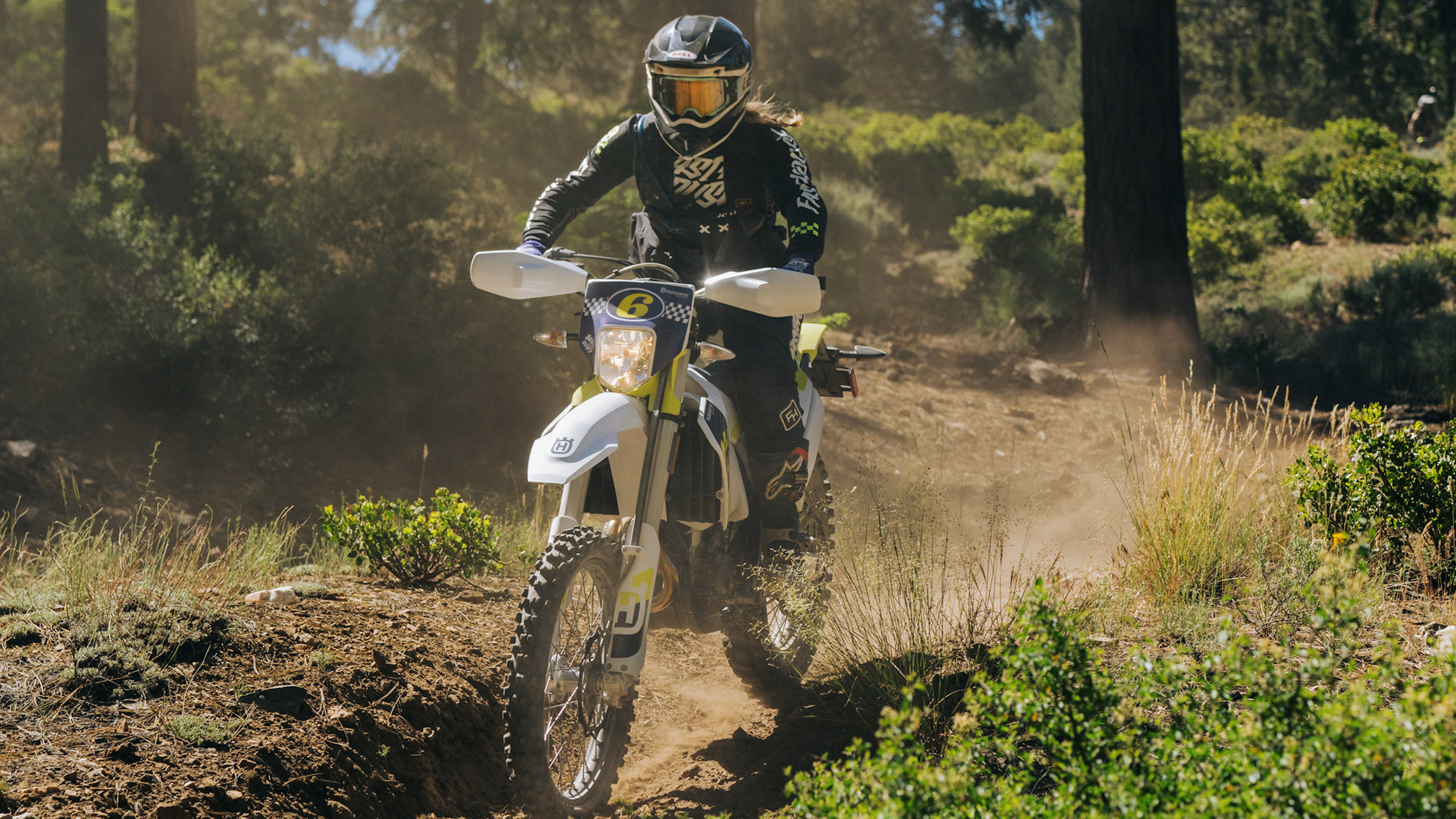 Like Becky, Malary got her start carving canyons on a road bike, traveling far and wide across state lines. While Lee's love for the road still shines bright, she's tirelessly spent the last decade riding and racing hard enduro and motocross, and continues to hone her skills on a dirt bike every chance she gets. With her eyes always on the next challenge ahead, Lee's made it her mission to explore the many hillsides and rock gardens of the world, while conquering the unique terrains presented by each region. We decided to take this Texas rider out of her comfort zone and see how California's slick silty hill climbs and its rain wrecked single track measured up to her step-ups and tree roots back home.
What bike do you ride at home, and can you share with us a bit of how you have it set up for the type of riding you like to do?
Back in Texas I currently ride a 2021 250 xc-w. There is a lot of technical rock terrain out there, so I have my bike outfitted with all the necessary guards in case it is dropped. I'm 5'0 and appreciate being able to dab when necessary, (the best riders do it even if they say they don't) so my bike is lowered 2" & the suspension is set up for my weight.
As someone who regularly rides and races dirt bikes, what were you hoping to experience or accomplish at Dual Sport Summer 3?
I looked forward to seeing the terrain Big Bear had to offer. There aren't a lot of big mountain clearings where I'm from, so I looked forward to hill climbs with a rewarding view and big boulders to tractor over on the 350. Lastly, I was excited to experience new friends and witness all of them succeed in their own way.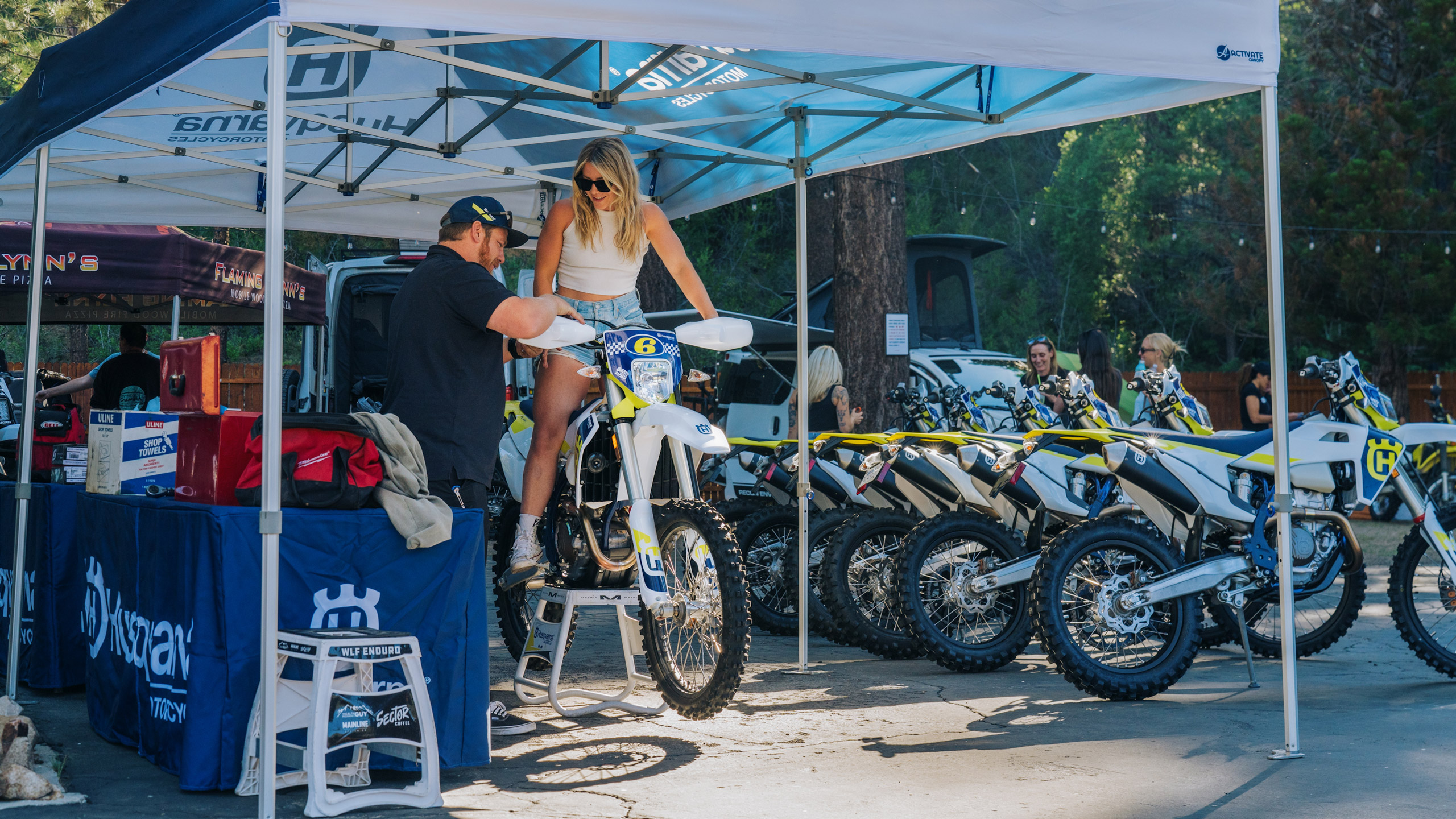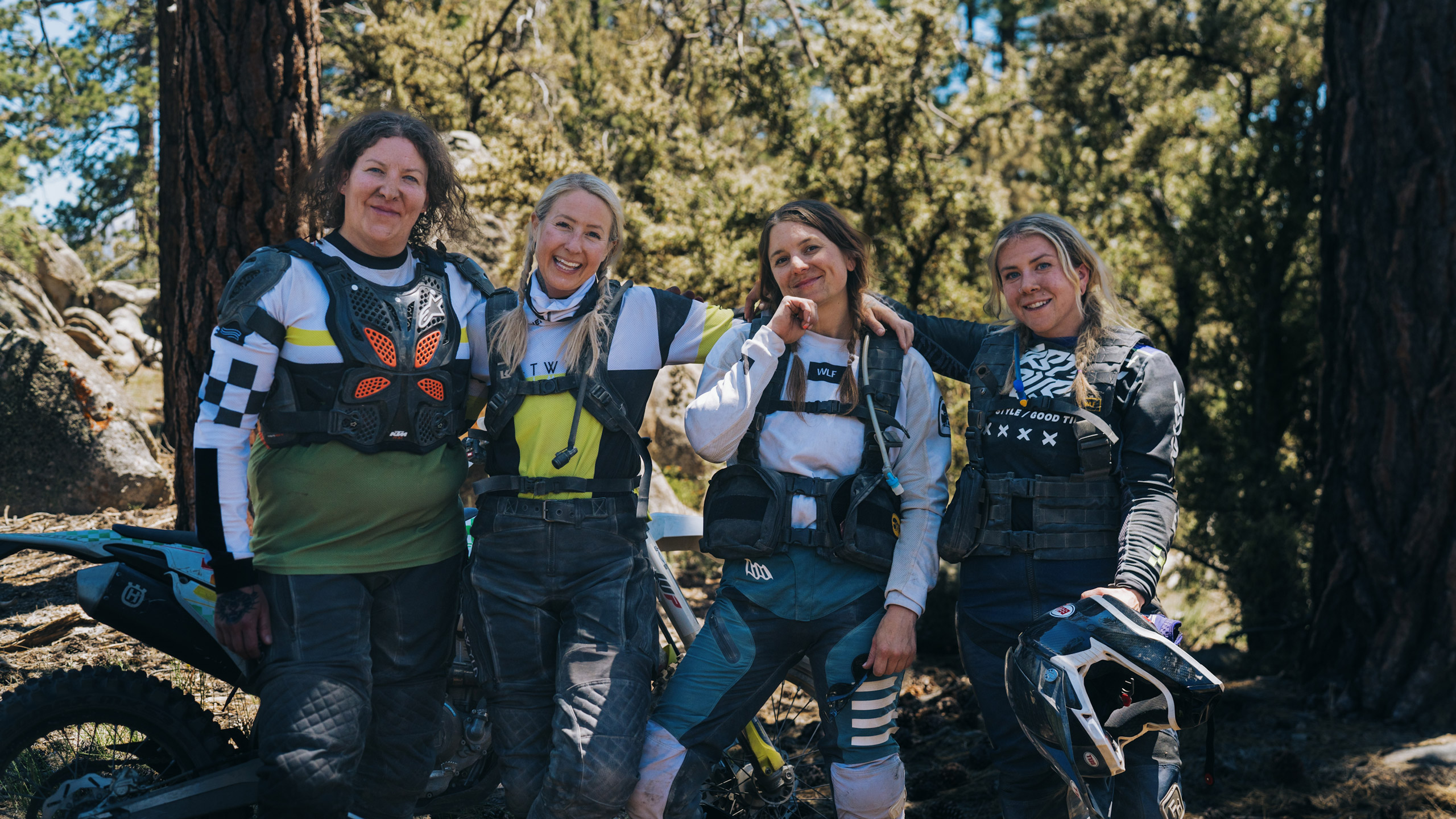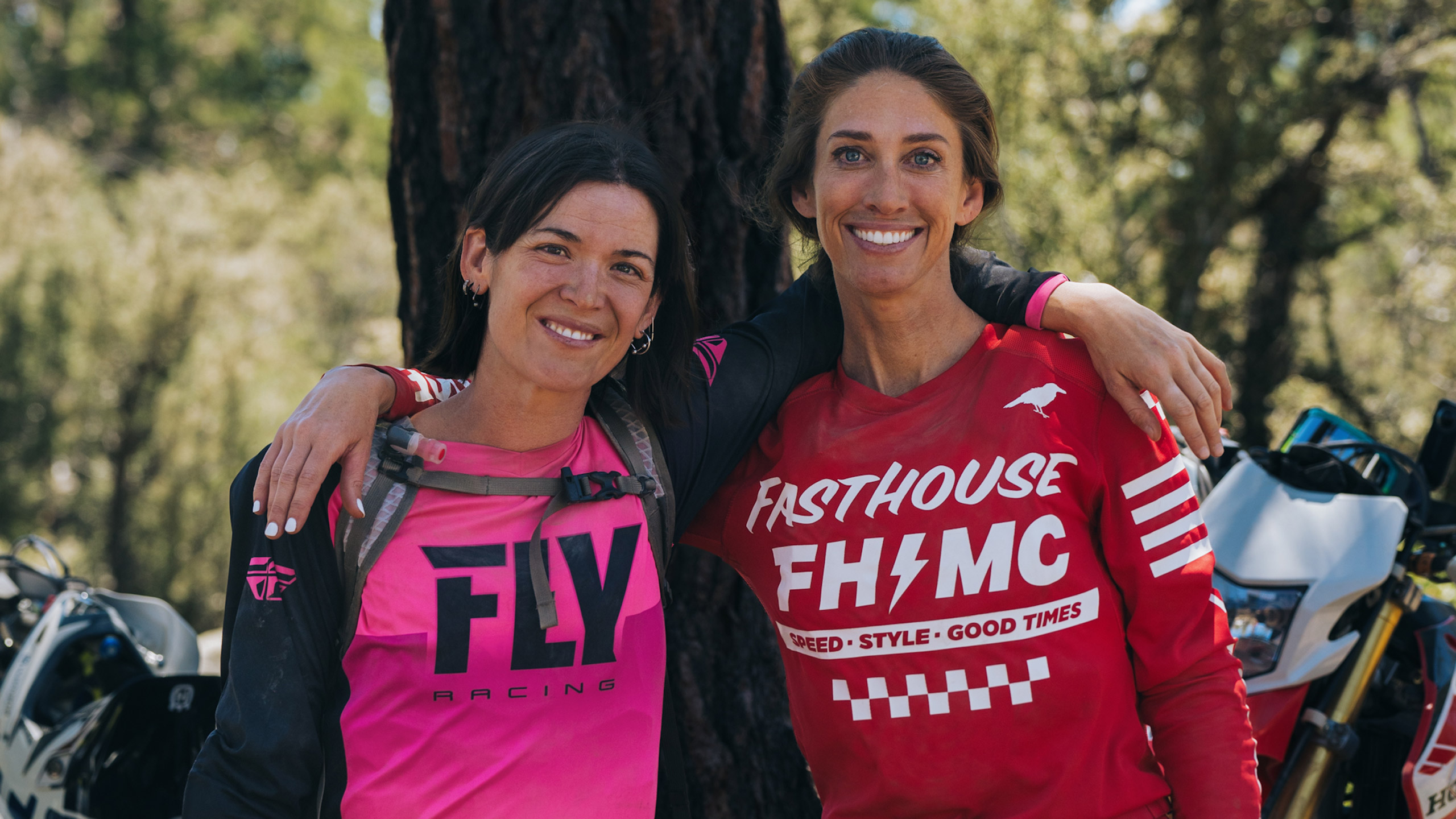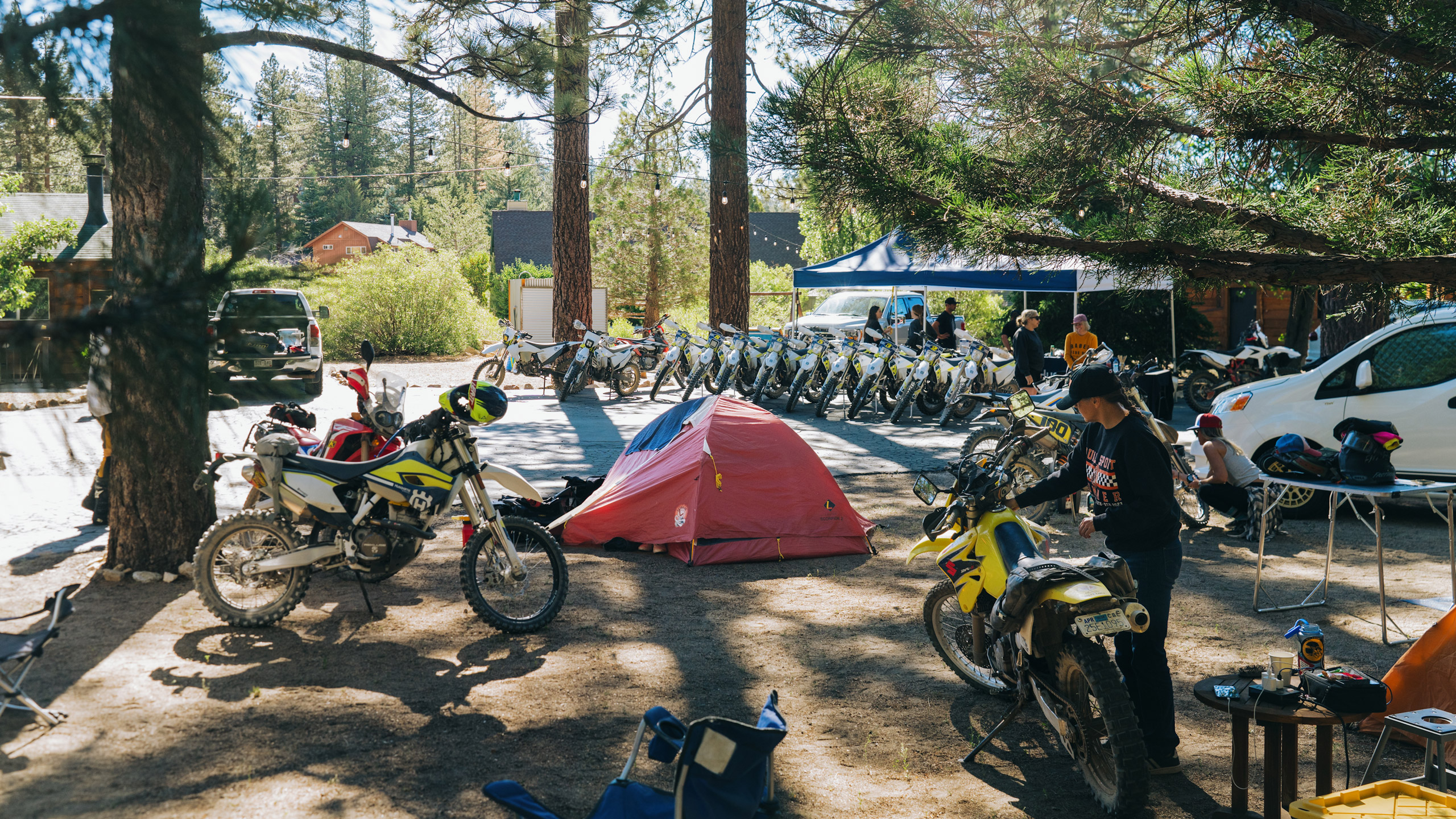 Can you tell us a little bit about what kind of terrain you usually ride in Texas? How is it different from what you rode in Big Bear, and would you say it was easier or harder?
In Texas we have a lot of rock ledges with big step ups, roots and shale hill climbs. The first day of DSS we did a lot of silty hill climbs with not much run up. This day was challenging because once I'd get off course, it would be harder to restart since I could not touch the ground to get my weight back on the seat for traction. The second day was a lot of boulder fields drenched in rainwater, which made them slick. I'd say day two was more technical but easier for me as it was similar to the riding back home.
What was your experience like from the event?
I truly loved every second of this event. When the trails got more challenging, the entire group was so supportive towards each other, either with cheers, or if requested a hand and solicited advice. There was never a dull moment, as there was always an activity or someone to chat with.
What was your biggest challenge on the trails, and how did you work through it?
My biggest challenge on the trails was being on an unfamiliar bike. I really loved the power and handling of the FE350. Being a smaller rider, there were off camber moments when I had trouble getting enough of my butt on the seat to gain traction to start. Usually, I'd stop in a place that was easy to start again from, whether there's a rock to place my foot or a flat spot. Sometimes you would have to stop in an inconvenient place, so I'd either walk my bike to a place I could start again or do my best to get my feet on the pegs as quickly as possible. I don't let being small in stature slow me down. I just made better decisions to help aid my efforts.
What would you say your 'Rose & Thorn' (high and low) of the weekend was?
My rose was watching all my friends get out of their heads and over big obstacles that may have scared them.
My thorn was packing up Sunday morning when it was over.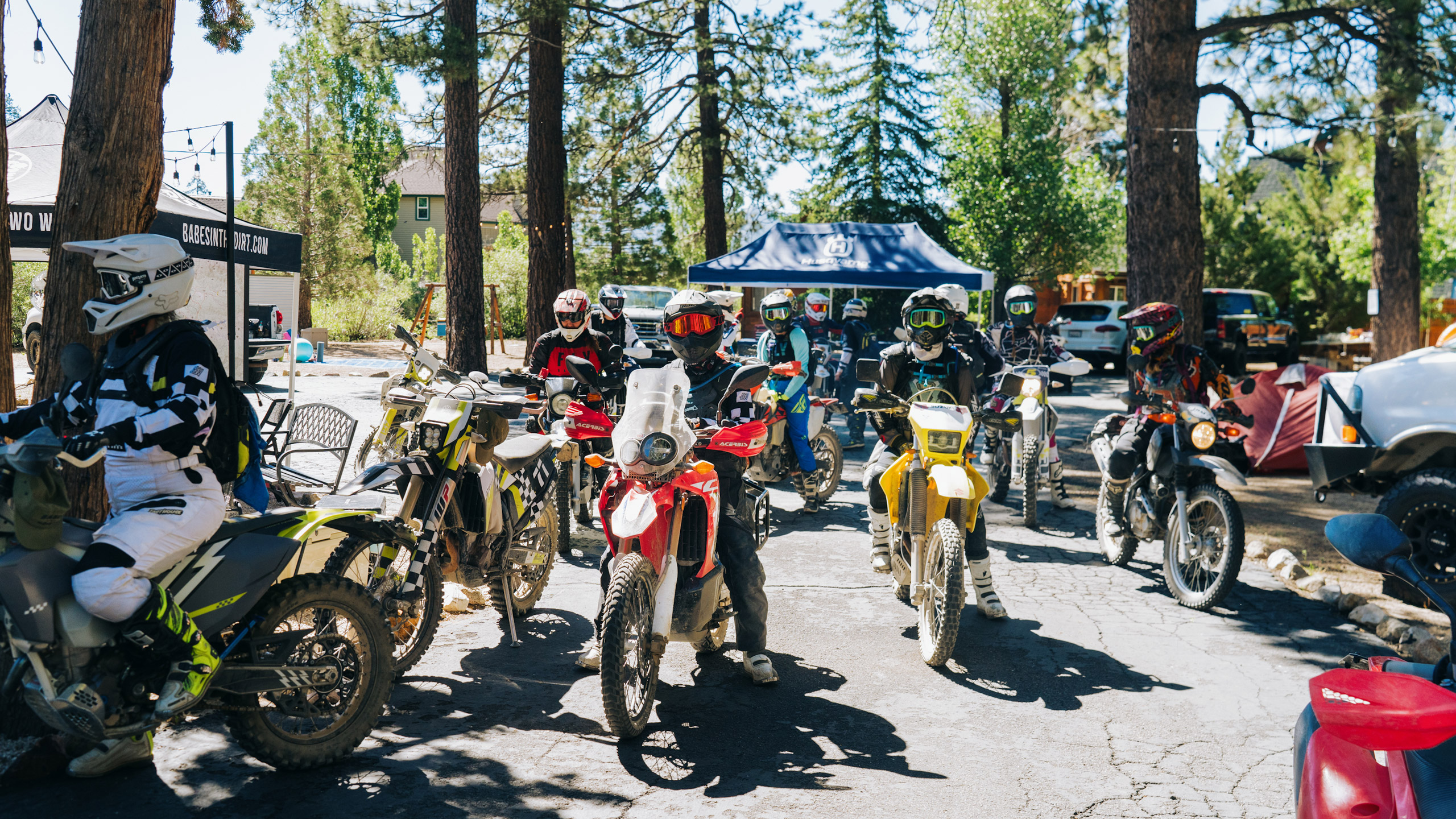 If you could redo one thing or a specific trail, what would it be and why?
I'd love to come back and ride all of the trails on my own bike that is set up for me. I think the areas I struggled in wouldn't be a problem. But I also think with more time on the 350 I could confidently conquer all things.
If you could give advice to another girl interested in dipping their toes in dirt biking, what would it be?
Ask a lot of questions. What type of terrain do you want to ride; big open desert or tight woods? That'll change what bike you should purchase. Take a class to get confident on a bike and learn basic skills. Sign up for events like Babes in the Dirt or Dual Sport Summer to meet other like-minded riders and friends. Surround yourself with positive people who want to help you grow in your sport. Don't worry about the nicest bike or gear. You're going to drop it, we all do. Just have fun and remember your only competition is you on your last ride.
If you are a woman looking to get into dirt bikes, meet other riders in your community, or simply learn more about Dual Sport Summer, follow Babes In The Dirt on Instagram or visit them on their site.
For those who'd like to learn more about you and the event, where should they go?
On Instagram at @babesinthedirt
Or visit BabesintheDirt.com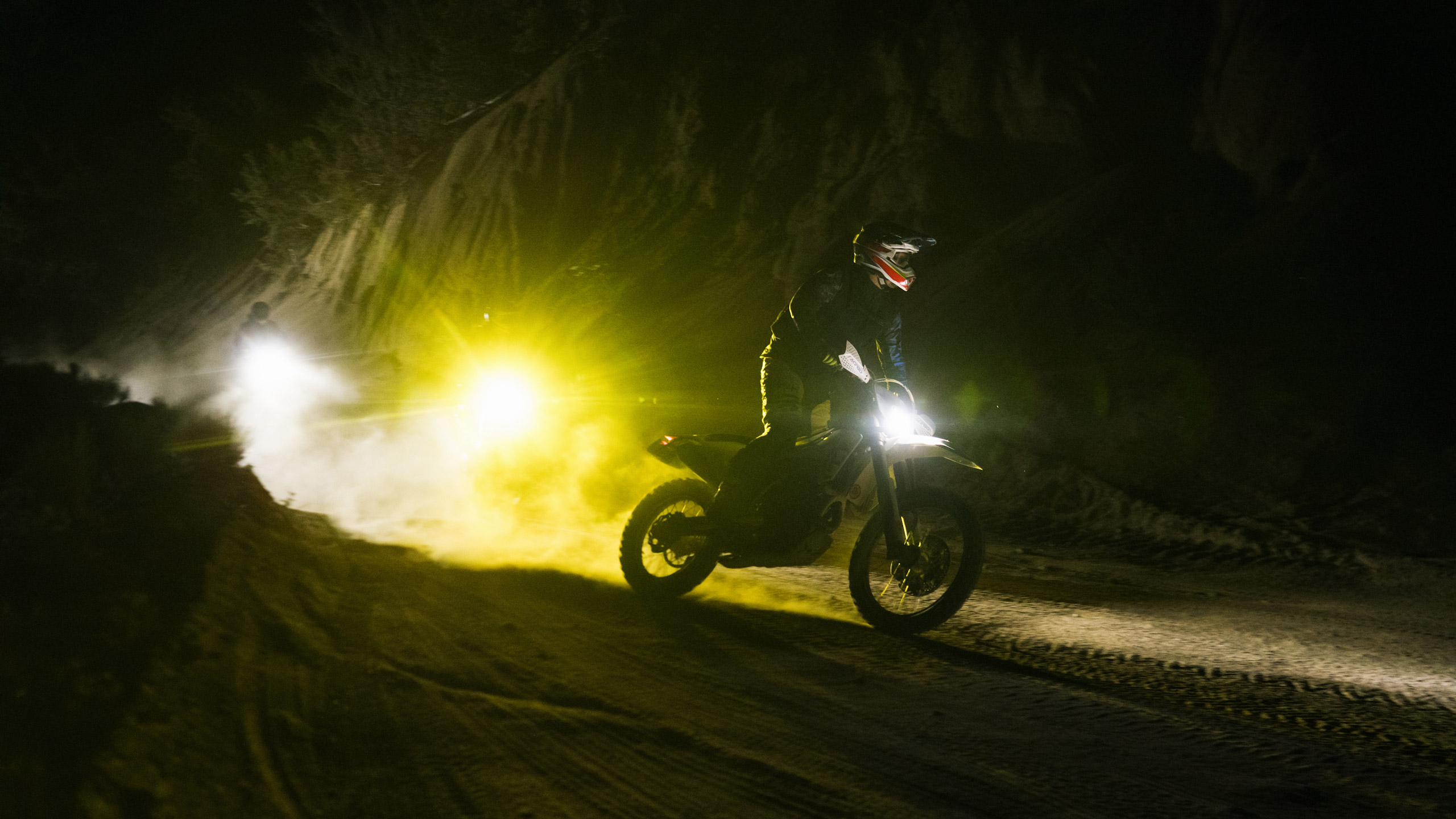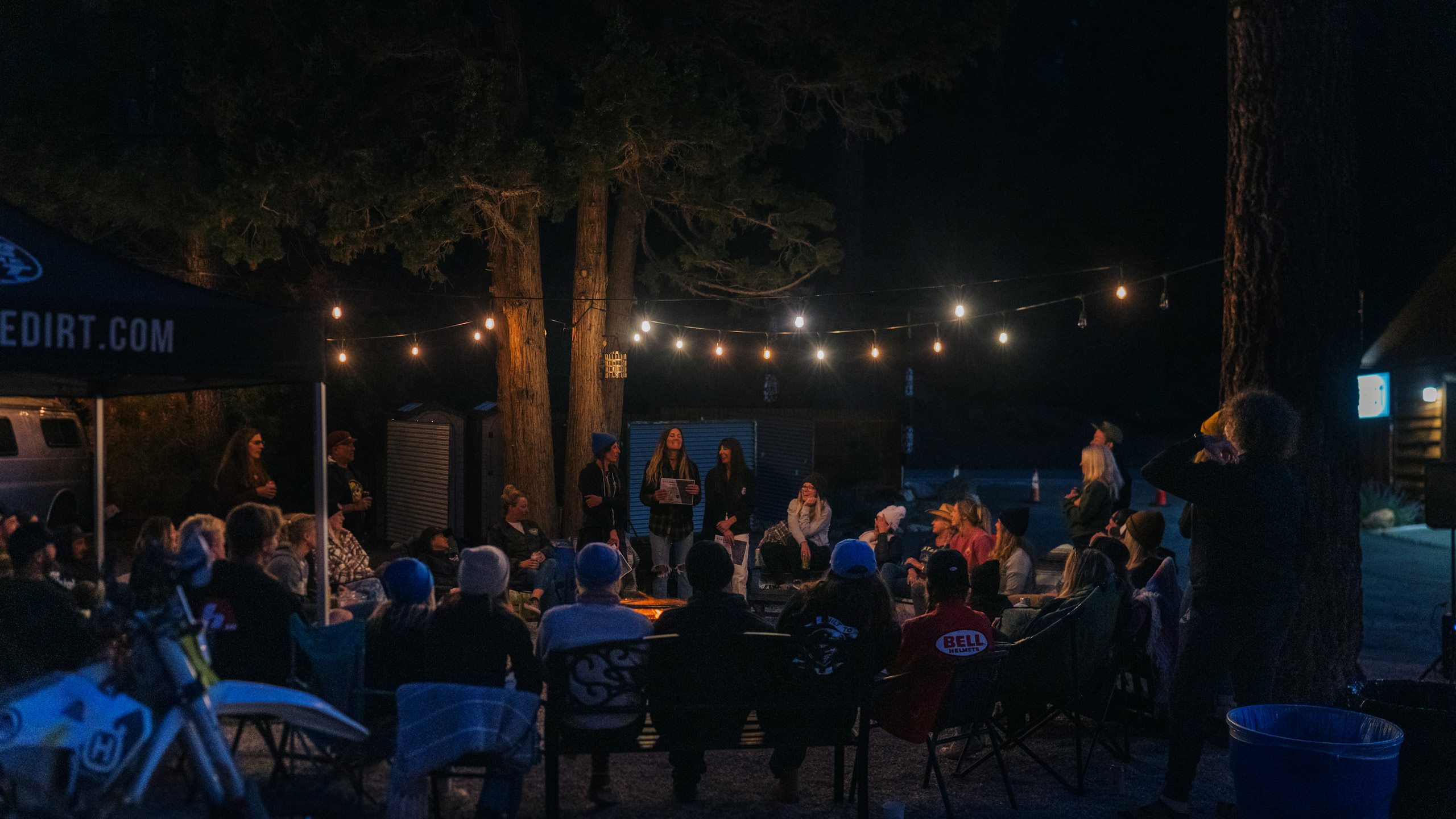 The Choice of Professionals