Tell us about yourselves — how'd you get into motorcycles?
Shaun: I'd say we got into motorcycles because of our dad. He is a mechanic and always had a passion for racing, whether it be cars or motorcycles. Growing up, we spent a lot of time going to the drag races, Supercross, and hanging out in the garage while he worked on projects. I think it was only natural for us to also have an interest in motorcycles, especially racing motorcycles. This was also solidified by our parents giving us toy motorcycles and cars — Aaron and I would build racetracks around the living room, under the coffee tables, across the couch, wherever, and we'd race each other.
Aaron: Growing up, we were always going the racetrack, doing shifter-karting, and road racing in cars with our family. Our parents went out of town for a week, and that really prompted the street motorcycle thing. We had already dipped our toes in the water with dirt bikes. At that time, we owned CRF50s with big bore kits and full sumo suspension and were riding them on the local bike trails and through the city. They came back from vacation, and there was a Buell XB12SCG sitting in the garage that Shaun purchased. Shortly after, there was also a Ducati 999 in the garage as well. Within a few months, there was two 999s, and we were on our way back to "The Fastest Road in the West." It just grew from there.
What is your favorite bike to ride right now?
Shaun: It's a toss-up, honestly. I am really digging the LiveWire and the Harley-Davidson Pan America right now. Both of them check different boxes in terms of what they do for me. The acceleration, torque, and throttle response coupled with the silence on the LiveWire makes me feel like a superhero in a movie, so that's bitchin'. The Pan America also has killer torque, acceleration, and handling in a package that isn't nearly as massive as a full-blown touring bike, but just as comfortable for longer rides, and it's more manageable for someone my size. If I had to break it down, I would say the LiveWire for ripping around town and the track, and the Pan America for road tripping.
Aaron: My favorite bike to ride has been the Husqvarna 701 Supermoto — it's a beast. With 16.5-inch Marchesini wheels and race slicks on the street, it's the ULTIMATE bike. We upgraded the brakes with Brembo spec calipers, rotors, RCS controls, and saved a ton of weight with a titanium exhaust. Any bike that will do over 120 mph on the highway and pull the front wheel up in nearly any speed is a winner in my book. Plus, it has a headlight and a taillight, so the cops can't get too mad, IF they can keep up — ha!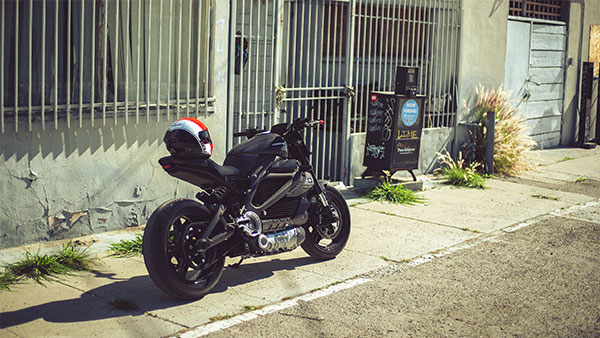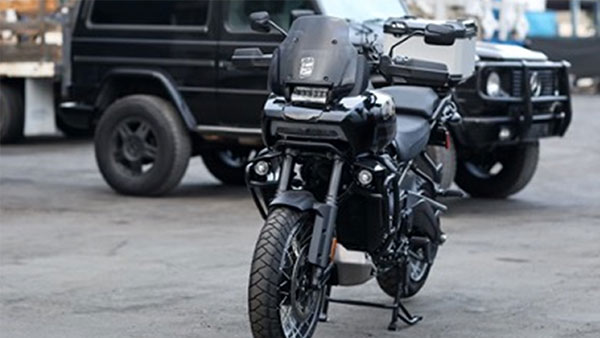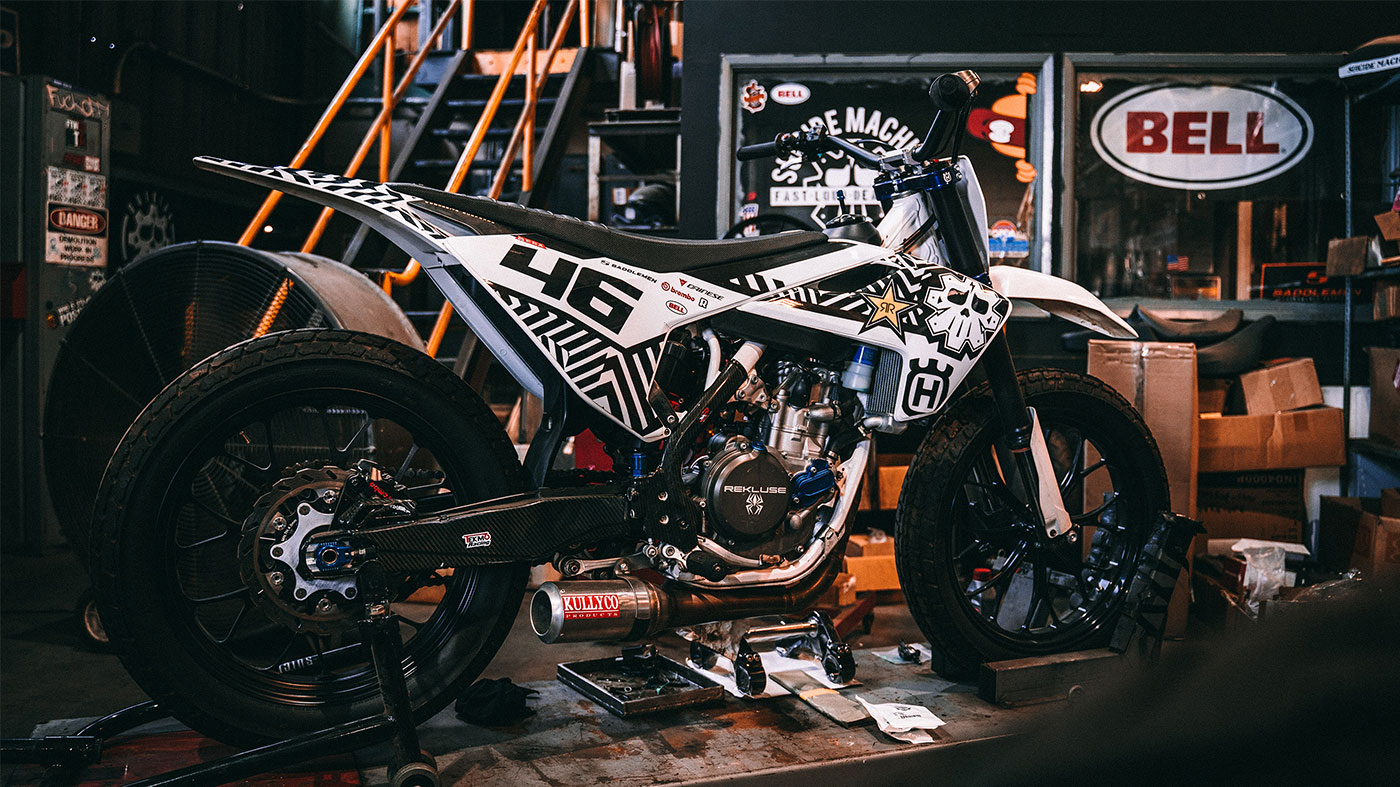 What projects do you have in 2022 you can fill us in on?
Shaun: For 2022, we've been focusing a lot of our attention on the LiveWire program (Harley-Davidson's electric vehicle platform) — both racing and customizing the motorcycles. We're working on a special build for LiveWire at the moment but can't say much beyond that. We've also been working with/on bikes for the RSD Super Hooligan Road Racing Series, building exhausts, and doing fabrication for some of Roland's bagger race team motorcycles, along with providing trackside pit crew support.
Aaron: We are currently working a lot on the LiveWires. These are super impressive and fast. They have all the best handling characteristics you'd find in a modern stock bike. In 2021, we took two LiveWires to Laguna Seca with Roland Sands Design's Super Hooligan Series alongside MotoAmerica. That was rad, and we got a lot of R&D done, and since then we have put together three versions, with more to come.
We have put together a package for these bikes, and it's made up of super-functional, lightweight, and direct-fit parts that can be purchased as a kit or individually for riders to customize their own LiveWires. It's comprised of SMCO billet rear sets that give the rider a more aggressive seating position, BlackStone Tek Carbon-Fiber wheels, massive 330-mm Brake Tech floating rotors, topped off with direct-fit Carbon-Fiber body panels and gripper seats from Saddlemen. Soon we'll have modified programming, along with Öhlins TTX rear shocks and their drop-in cartridge for the fronts.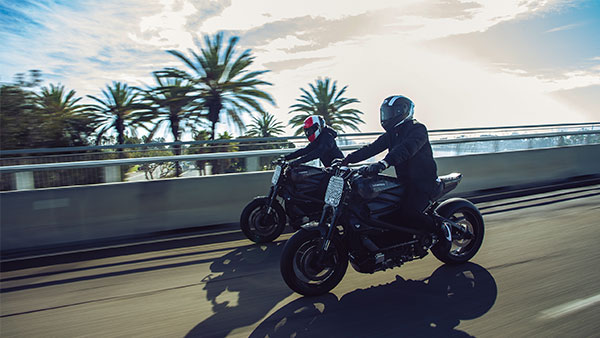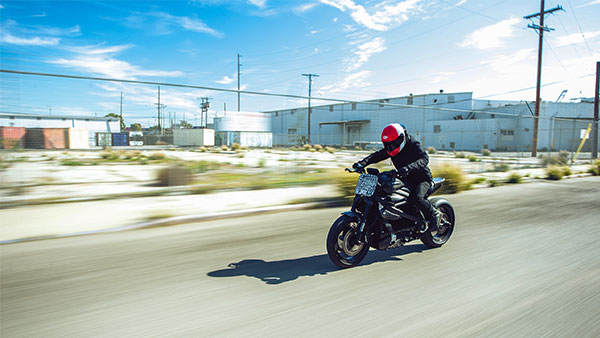 You are both into cars. What are you driving at the moment?
Shaun: This is going to sound pretentious, but it just depends on how I'm feeling any given day when I wake up. It's either a 2007 Audi RS4 (4.2L V8) or a 1970 Dodge Dart (5.9L V8). Both are V8 and suck on gas, but my "commute" from home to the shop is only 2.8 miles down a single street.
Aaron: Cars are great. Nothing beats going way too fast with a couple friends alongside. I am driving a BMW X3M Competition; of course, it's got all the BMW M Performance Carbon they offer and the full titanium Akrapovic Exhaust. My side piece is a 1993 Mercedes 300 GE. The short wheelbase G Wagons are super rare in the States, and after seeing one a few years ago, I had to have one. I had it imported last year from just outside of Moscow.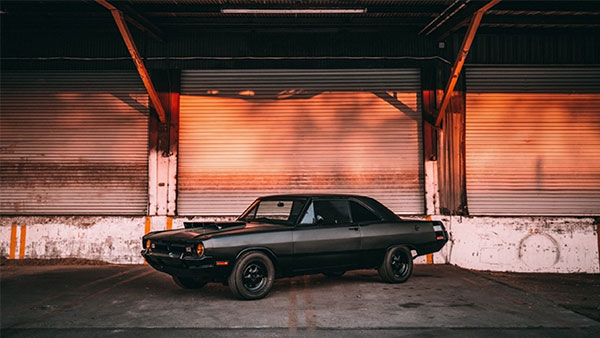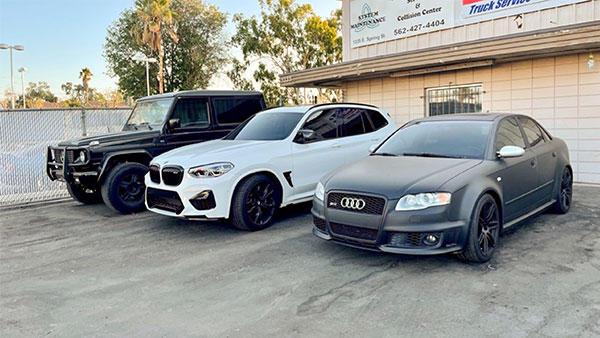 What's a must-ride location in Southern California?
Shaun: I'd recommend riding up Ocean Boulevard through Downtown Long Beach, across the bridges in the Port, head into San Pedro, stop at Sunken City to check out the ruins and the ocean, then take Palos Verde Drive around the peninsula to Redondo Beach. That's a regular route I like to hit, and it's a good mix of scenery, plus there's a lot of little spots along the way to grab food.
Aaron: SoCal has it all: beaches, mountains, rad downtown vibes, but more importantly, Baja California. Mexico is rad — a short, quick drive or ride down there, haul ass on the toll roads, catch some tacos, and way too much tequila. Plus, the beaches are pretty good down there too!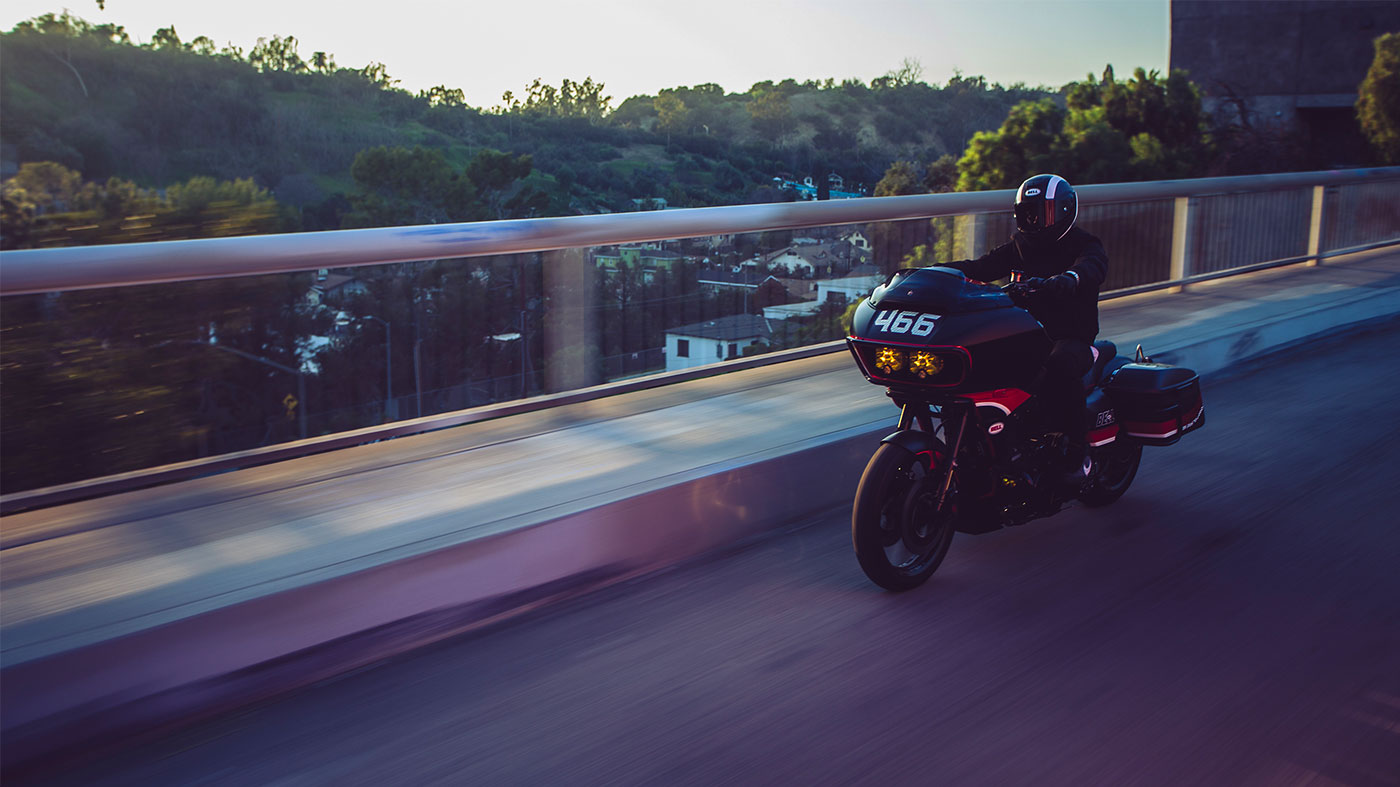 What is your approach to building motorcycles? Where do you draw inspiration?
Shaun: This might sound crazy, but a lot of our approach is kind of doing it as we go. Aaron and I will get together and decide on a general direction that we want to take a new build and maybe some specific parts we want to incorporate into it. But in terms of the final design, we aren't really locked in until the bike is done, and it's ever-evolving as the build takes shape.
Collectively, we draw our inspiration from all forms of racing. Our builds are heavily influenced by GT Cup cars, LeMans Cars, MotoGP and World SuperBike — pretty much any form of race-built machine inspires us. Individually, I draw a lot of inspiration from nature and the natural world. It's hard to ignore and out-engineer what nature has already done, especially in terms of aerodynamics (insects, birds, fish) and structural integrity (honeycomb, tree/plant cellular arrangement). I like to be able to blend the two different worlds into a cohesive final product.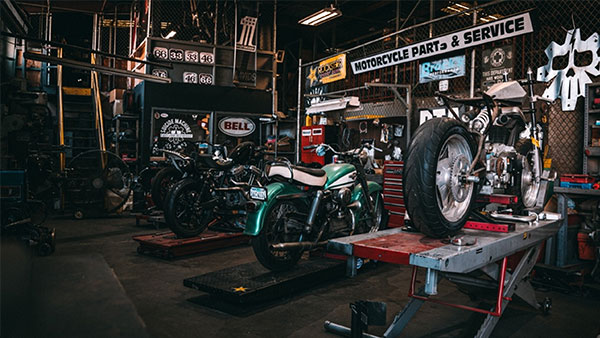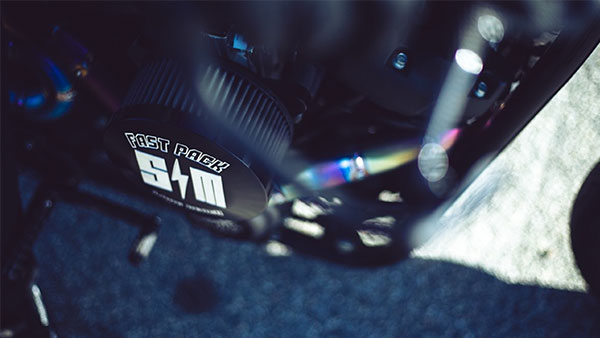 You've built lots of motorcycles. Are there any that stand out above the rest?
Shaun: It's hard to pick just one bike that stands out. In each of the builds, there's at least one specific part or angle that is bitchin' and I absolutely love. We spend so much time just staring at each bike and specific portions of the bike during the build that you end up being drawn to something that is your favorite. With that being said, I guess it would be safe to say that my favorite bike would be my turbocharged rigid-framed Sportster. It has two identities — land-speed desert racer and also drag-strip street racer. You can check it out in the Bell Eliminator release video.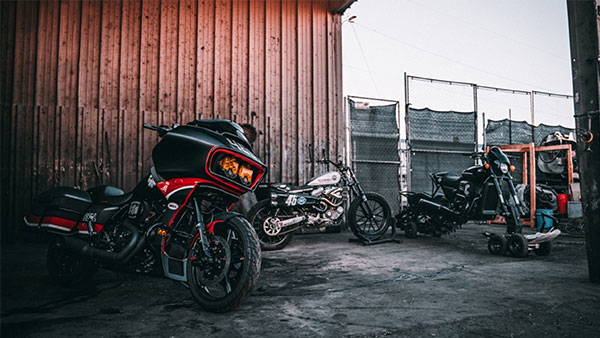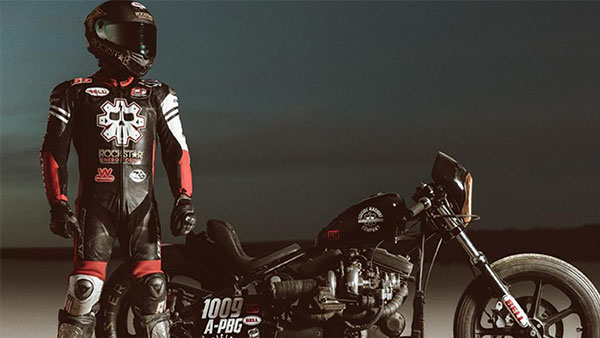 Favorite helmet to wear at the moment?
Shaun: My favorite helmet to wear is the Carbon Race Star, both on the track and on the street. I've put them through their paces in my racing career up to this point, cracked more than a couple in some pretty rough get-offs, but the helmets did their job, and I walked away to race another day.
Aaron: All of 'em. Racing in the Pro Stars, street shit in the Eliminators, and flat track in the Moto-9s. I EVEN have the SRT-Modular dialed in for when we are ripping around on the Road Glide Special or Pan America. Can't forget to give a huge thanks to Airtrix for the dope paint jobs on all the helmets too!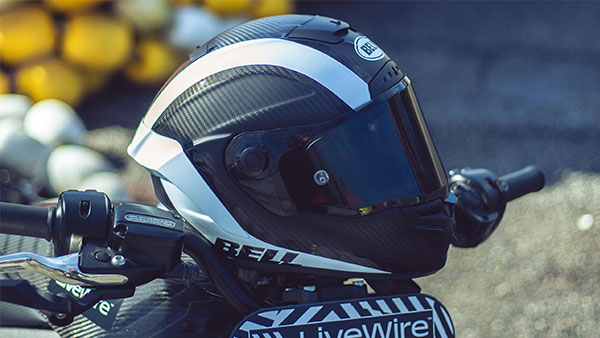 Post-race celebratory drink?
Shaun: Finally, an easy one. An ice-cold Miller High Life, preferably out of a glass bottle and, more specifically, a 32 oz. As you well know they drink champagne in the Winner's Circle, and High Life is the champagne of beers, so win or lose you'll still feel like a champion.
Aaron: Cadillac Margaritas.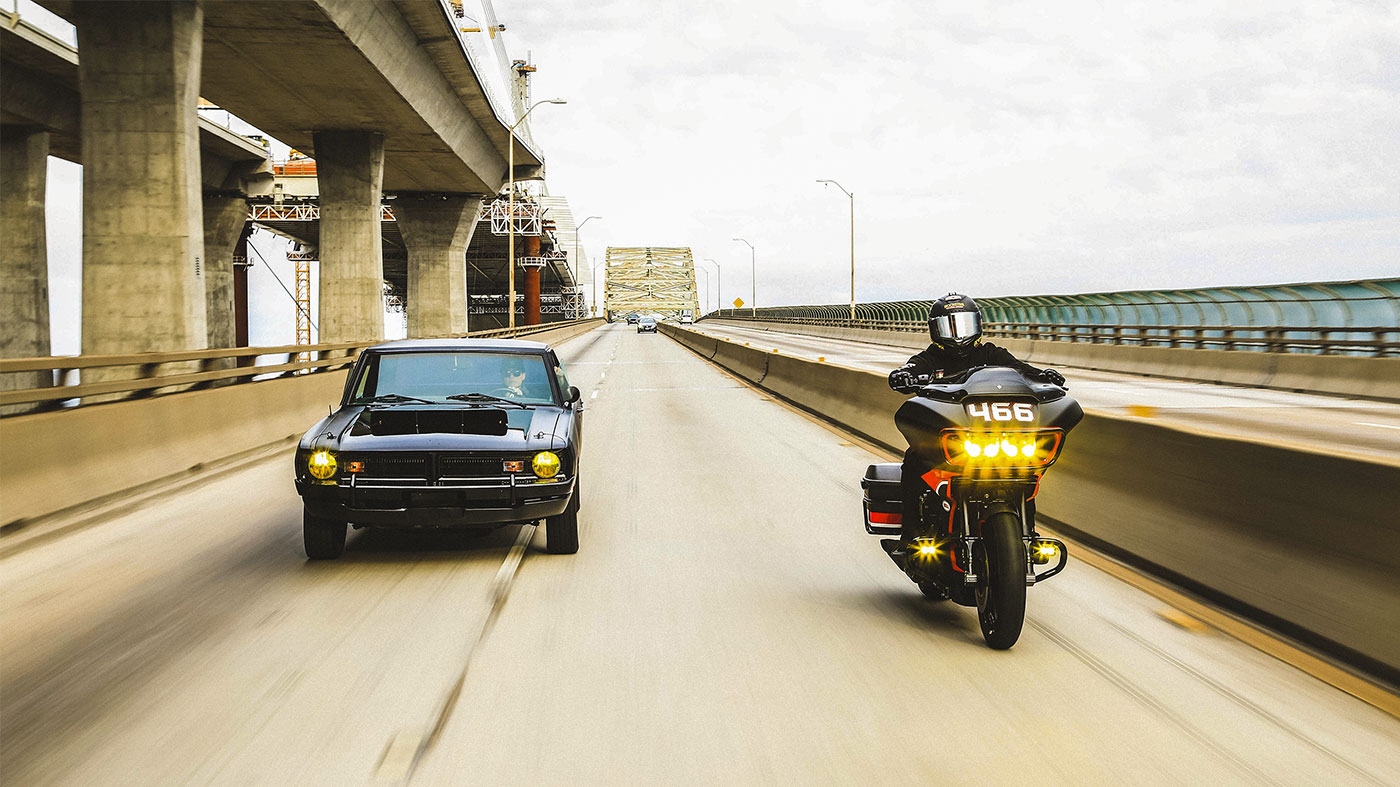 Photo Credit — @Keiron_Berndt, @thereelzachvisser and @Huck93