Tell us about yourself — how'd you get into motorcycles?
I'm from the flatlands of Canada, where my dad was the farm kid wheelie-ing his dirt bike to school and back. I grew up on desolate landscapes, so there was always farm toys around — like shitty cars, dune buggies, tractors, etc. Every one of my friends got their licenses at fourteen years old, so they could help their dads farm. I always just loved driving anything I could get my hands on.
When I first moved in Vancouver to go to university, the only way to not pay for parking at my school was to park in motorcycle parking. I had been riding a bit on the street with my mom's Honda 250 she got in the '80s. I picked up a little scooter that eventually evolved into a bigger bike in the winter, when I needed something tougher in the crappy weather. Vancouver has horrible rainy weather, and I never owned a car for the whole five years I lived there … mostly because I was broke as $*%#. Ha ha!
What's was your reaction to being the first female builder who accepted the invitation to born free?
I have phone screen shots asking Mike (owner of Born Free) if he is serious. I was like, bro, can I build an Evo Sportster? I took a lot of time to decide, and I almost didn't say yes. But my friends all really wanted me to do it, and I eventually decided to try and get help from my sponsors. Since I didn't have my own shop space, I would need to rent space from a shop — use their tools, buy a lot of parts, etc. I didn't have anything. Most of these other builders have motor projects or parts from swaps or something to kinda be like "OK, this will give me a push to finish that idea I've had." For me, I never in a million years ever thought I'd even own a Panhead, let alone build it myself.
I knew I was going to get a lot of backlash from saying yes to this invite. Being a "Born Free Invited Builder" means you are the best of the best in the world of choppers. These builders are the best motorcycle builders in the world. I built one Sportster Chopper with the help of a friend, and then I built a race bike last year that I raced in Moto America, and that was about it. But, once I told my sponsors what was going on and my ideas, they all said, "Hell yeah, give it a shot!" Dunlop, Harley-Davidson and Russ Brown Motorcycle Attorneys all jumped on with some support. I got Cody at Hawg Supply to rent me a corner of his shop, and a bunch of brands sponsored parts too. So many people in the industry have been helping me, giving me tips, etc. Even other Born Free Builders from this year have reached out and guided me. It's been a crazy, amazing experience. I have learned so much.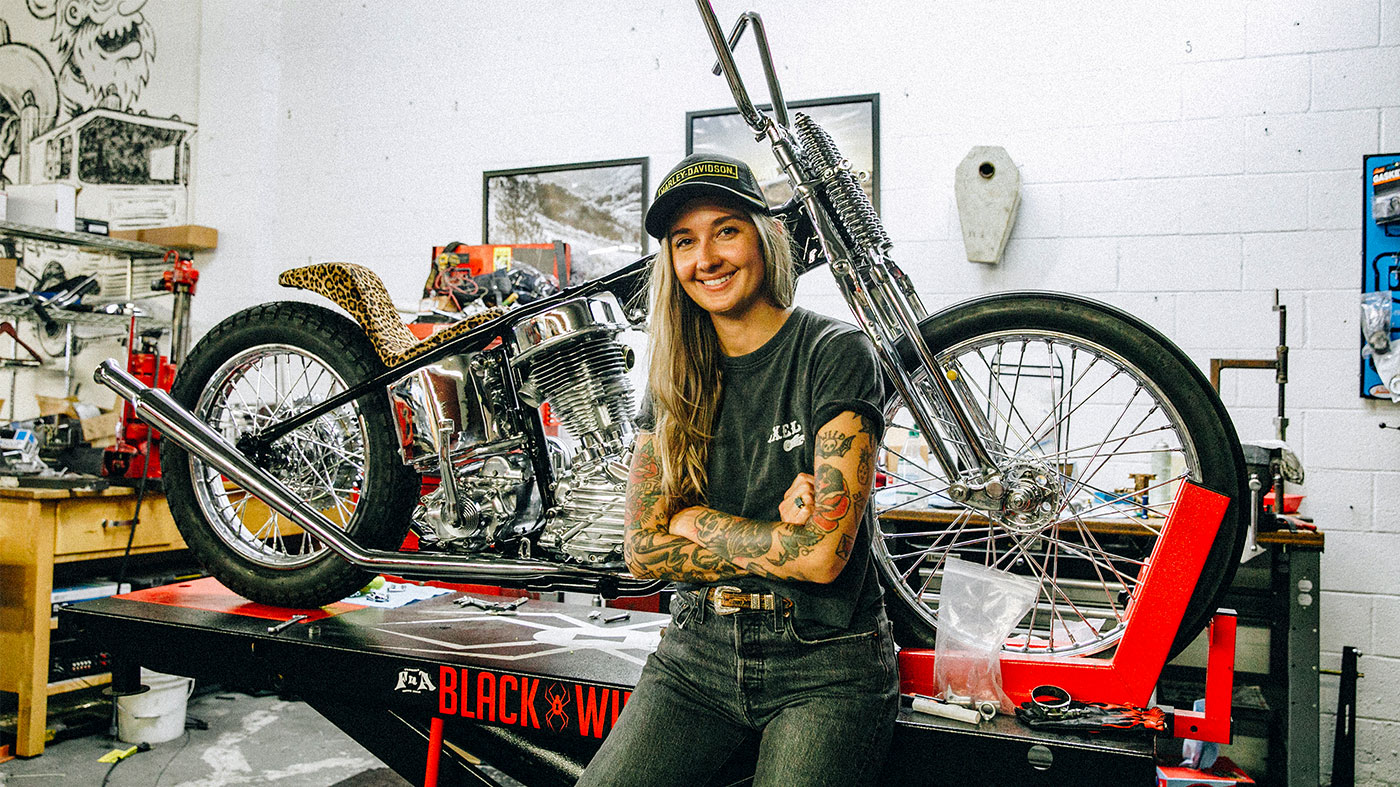 Tell us a little bit about the build—where have you drawn inspiration from? What detail or parts are you most stoked on? How much sleep have you lost over it?
Because last year's Born Free Show was pushed to August, the builders for 2022 weren't invited until October, which meant I only had approximately seven months to build this bike.
It wasn't really what I wanted to build — it was what was available and most possible to do in this amount of time. Thankfully, I found a 1948 Panhead in Los Angeles within a month of being invited. It came with a matching-year transmission and a 1954 Harley-Davidson frame. Everything was in rough shape.
With the help of Hawg Supply, I totally rebuilt the motor (and) transmission, and brought the frame back to life. Once things got moving — my main inspiration was to build a bike that fits me and I can ride the shit out of. I know you're supposed to kind of "go crazy" with show bikes, but I mostly want to take this opportunity to just build my dream bike.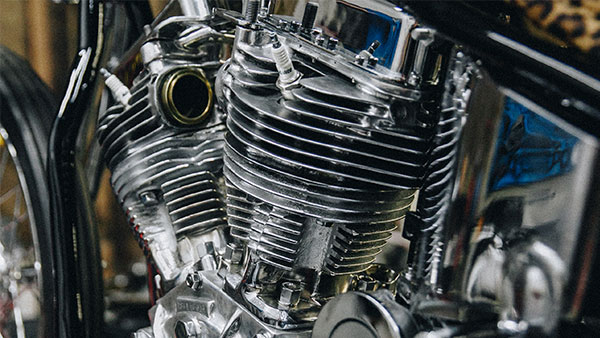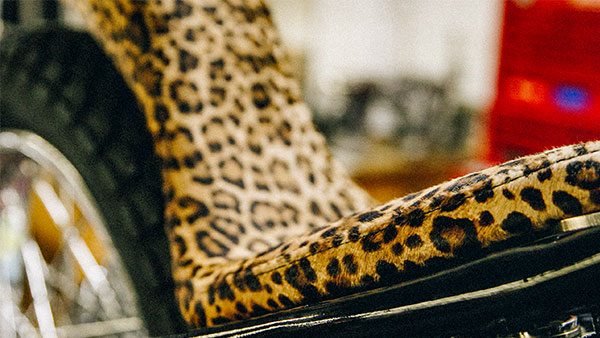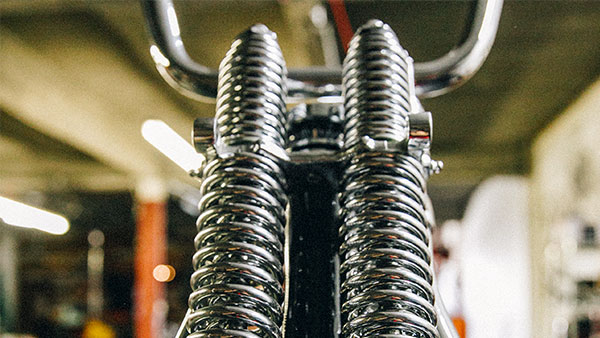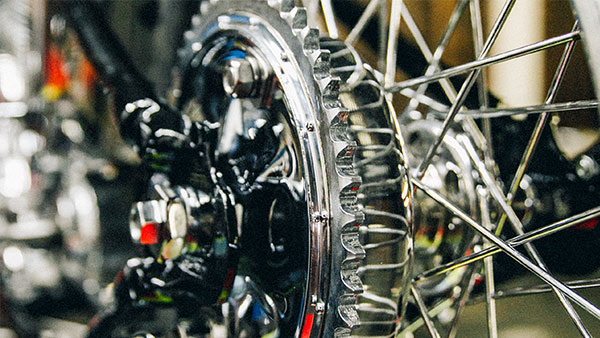 What other bikes are in your garage at the moment?
1966 Honda CM90: In my bedroom
1976 Yamaha XT500: At my parents' house in Canada for when I visit
S&S Shovelhead Chopper: Bought this to flip for money for my Panhead. It will be posted any day now!
2003 Sportster Chopper: My first "build" — my chrome bike!
2016 Harley Davidson Dyna: Built-out tough-guy bike for ripping around LA'
2022 Royal Enfield CT650: I built this into a road racing bike at Roland Sands' shop for the Build Train Race Program. It is now in my living room.
1948 Panhead Chopper: Currently building for Born Free!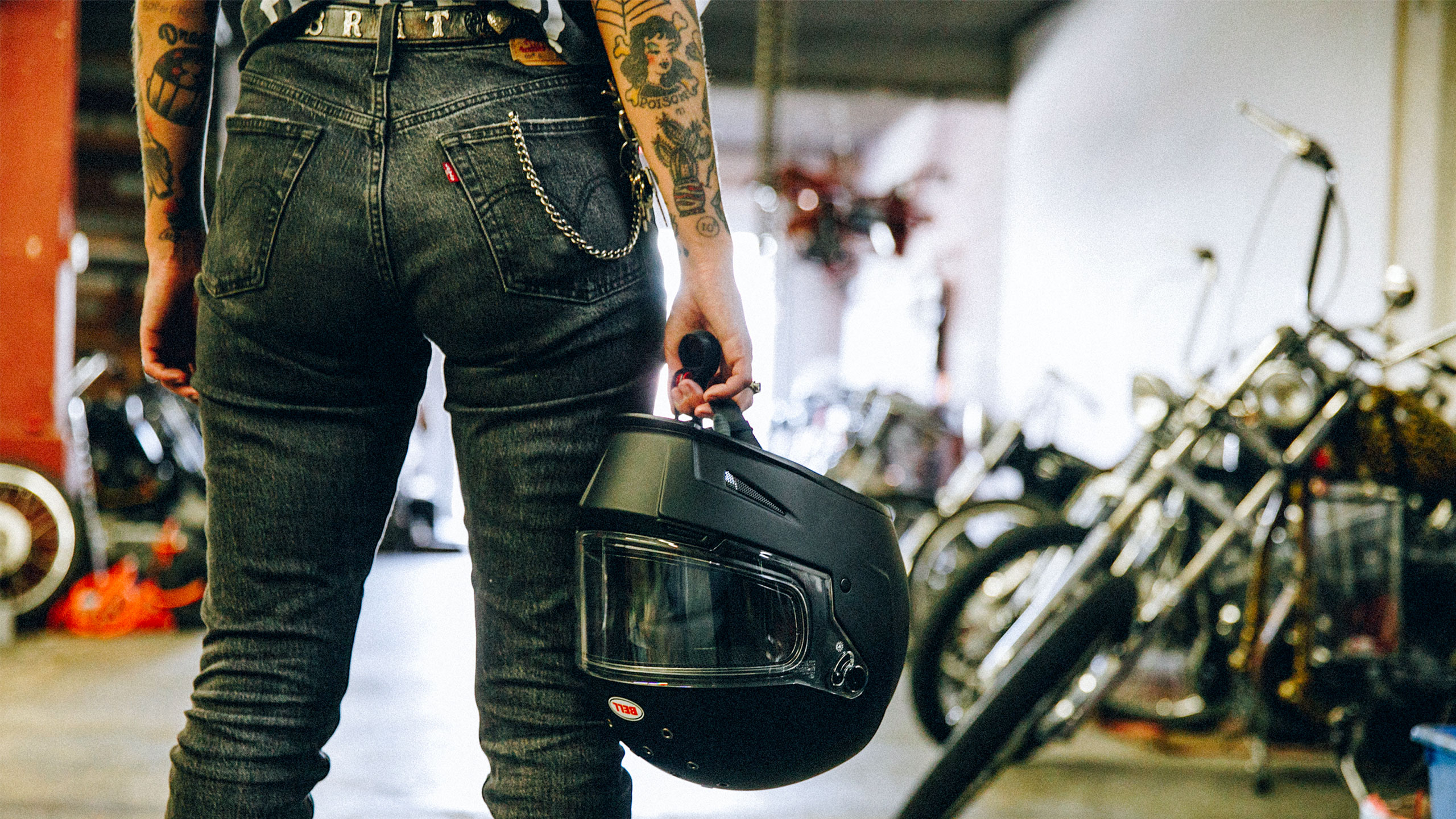 Most memorable ride?
I am on my eighth year of being a full-time biker. I have done so many amazing rides for brands, magazine articles, content pieces, etc. One of my favorite rides was when I rode from Vancouver to San Felipe, Mexico, down every inch of the Highway 1/101 Coastal Highway on a hard-tail chopper.
That was my first time riding to Born Free, and it's safe to say I took the scenic route. Rode home alone too — you could say this is where I really started to learn how to fix up shitty bikes.
Becky Goebel
I also spent a month in the European Alps with three homegirls riding brand new SuperMoto 701s through all the most famous passes in the world. That trip still boggles my mind, and I think about it every day.
Another ride I really loved was for an article for HOG Magazine where Harley Davidson gave me and my dad brand new baggers (I rode a trike) to ride across Canada to our hometown. Just him and I spent nine days on the road in biker luxury, taking the slow routes and staying in nice hotels. It was so rad, and now my dad and grandpa are riding to Born Free from British Columbia next month!!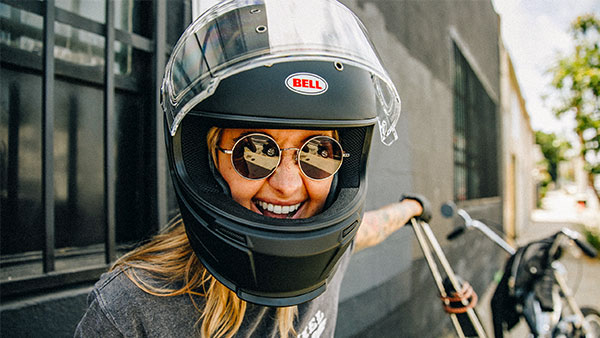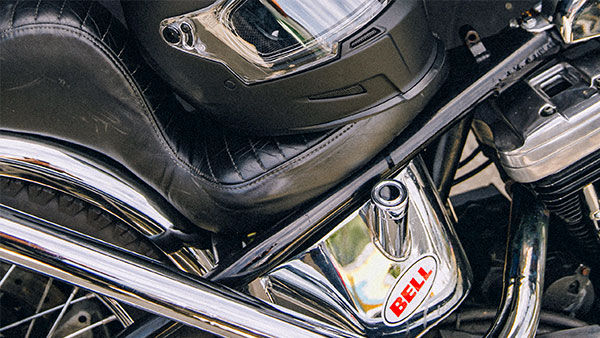 Other builders, motorcyclists that you look up to?
Other builders: J. Shia from Madhouse Motors, Andy at Pangea Speed, Suzy Pilaczynski, Cody Kemmet at Hawg Supply, Aaron Boss at Roland Sands Design, Scotty D at Juniors Handmade, Mark Kirkland, and Ryan Grossman
Motorcyclists: Jolene Van Vugt, Vicki Golden, Josh Kurpius, my dad and grandpa, Roland Sands, Adri Law, and Melissa "Moldie Goldies" Gee
Is it going to be a mad rush to finish the bike?
I'm trying to not have that be the deal. I have anxiety, and I'm a planner. I like to be dialed in — it's the best way I work. At this point, I'm in a pretty good place. The biggest stress is that my tank and fender are in Iowa with my painter. I might not have those until right before the show, which means I can't really ride it or kick it or really have it all together until then. But so far, so good. At the moment, my bike is in a million pieces, and I just have to reassemble it — hopefully it won't be an up-all-night shit show, but with deadlines like this, you never know.
Becky's Helmets