Taylor Schultz is a well-known custom automotive paint and pinstriper who has respectively built his reputation over the last ten years.
With an eye for detail, precise line work and ground breaking paint designs, Taylor has built a name synonymous with craftsmanship and artistic excellence.
While building his legacy in the automotive and motorcycle industry, his work has also branched out to include custom logos, reputable store fronts and custom vintage purses and leather goods. Most recently his panel work and fine art has been featured in several art galleries throughout the Bay Area.
We caught up with Schultz in between projects to ask him a few questions and get a feel for how his brain works.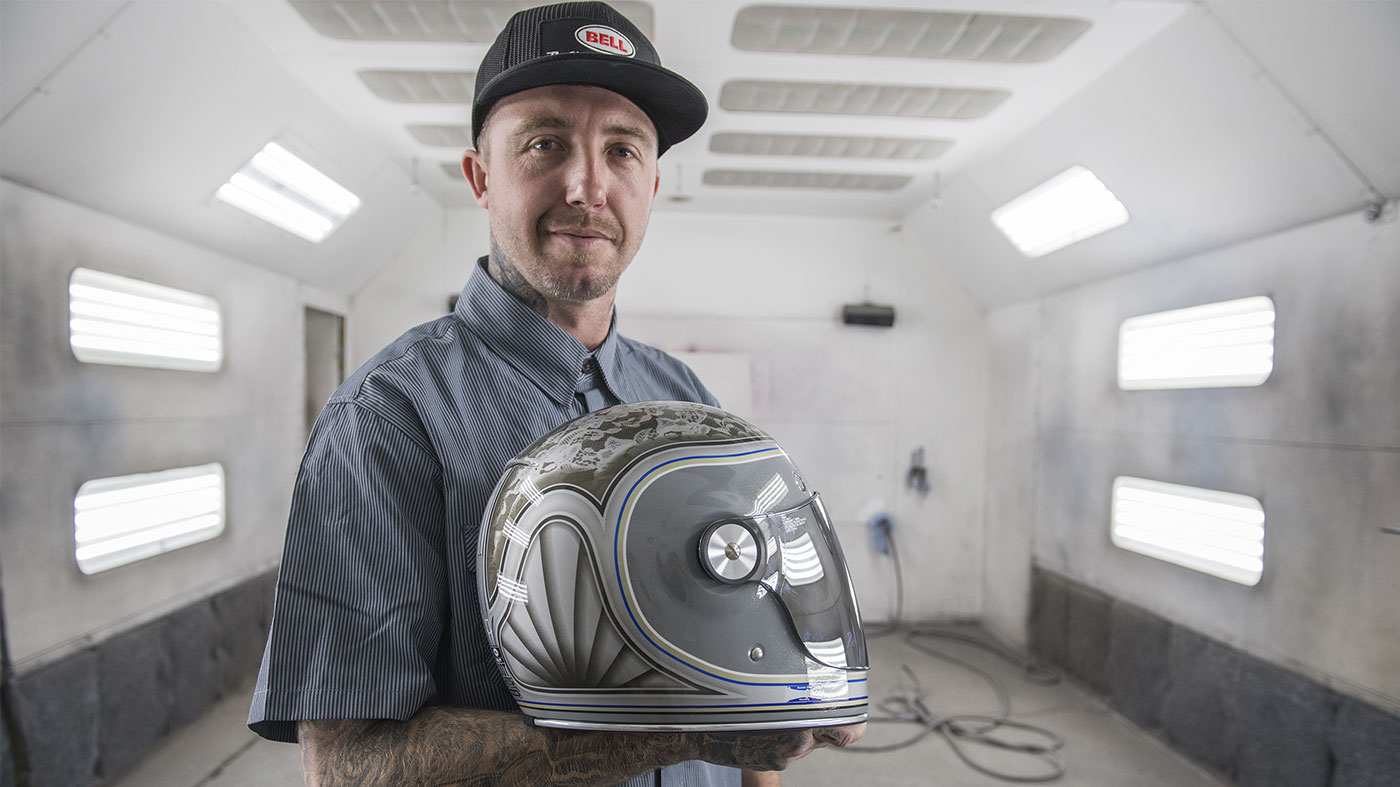 Tell us about your recent collaboration (Bullitt SE
Recently I had the honor of painting an artist-designed helmet. With Bell being one of the top helmet companies in the world and one of the few companies out there with the capability to mass produce, an artist-designed helmet drew me to the brand. The decision of theirs to collaborate with me was truly an honor. I've been discussing ideas with the company for over a year now, so to watch the product come to life feels amazing.
How did you add your style to the Bell Bullitt?
I painted the helmet using my own personal style as if I were painting it for myself — which usually turns out the best. Having the artistic freedom on something that I knew had no boundaries made the project that much more fun.
Tell us a bit about your background. At what age did you start getting into custom paint and pin striping?
I grew up working at a body shop when I was 13. After leaving college in 2003, I began working in the custom paint industry for motorcycles. In 2006, I began my own company known as Schultz Designz and the rest is history.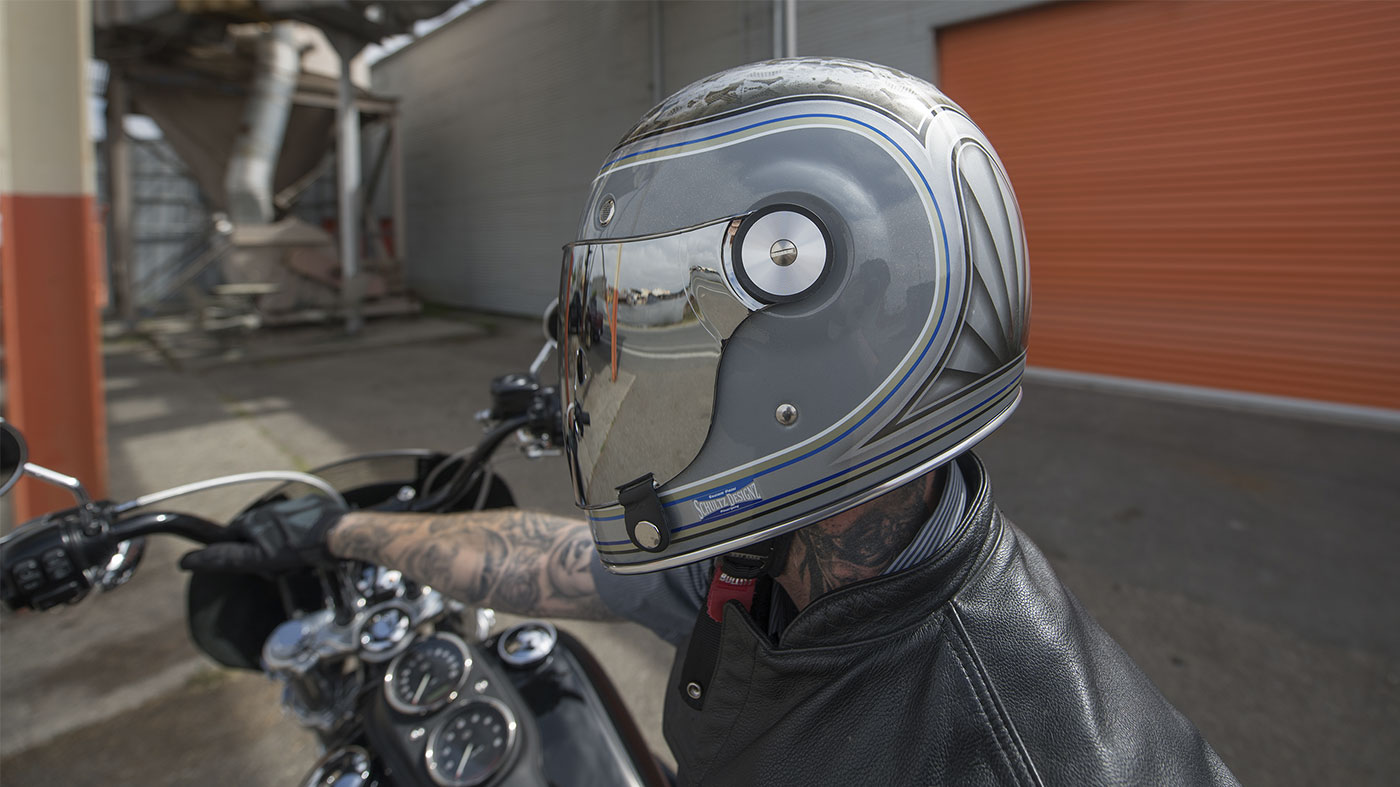 Where do you draw your inspiration from? Or any artists who have influenced you?
I get a lot of my inspiration from non-related motorcycle items. It can be anything. From walking down the street in a city, to a women's hair color or even the ice cream aisle at the grocery store. I grew up learning from Bob Iverson out of Southern California who was a well known pinstriper. My biggest mentor was a custom painter/pinstriper named Hutch from Penngrove, California. He taught me a lot of what I know today.
What is your personal bike of choice? Any favorites over the years that really stayed close to your heart?
I painted a purple FXRT a few years ago that was one of my personal favorites. That bike allowed me to express my creativity as an artist. The paint job was a result of what I had been bottling up in my mind for years. Every time I look at it I see the passion and freedom that came from within. Experiencing that feeling as an artist is priceless.
Tell us a little about you — what hobbies do you have outside of painting? Music? Anything you feel the world might want to know about what makes Taylor Schultz tick?
I enjoy traveling, live music, hunting, fishing, and anything outdoors. I'm striving to be a hobbyist jewelry maker. I also enjoy forging knives, taking my dog places, and above all I enjoy spending time with my girlfriend.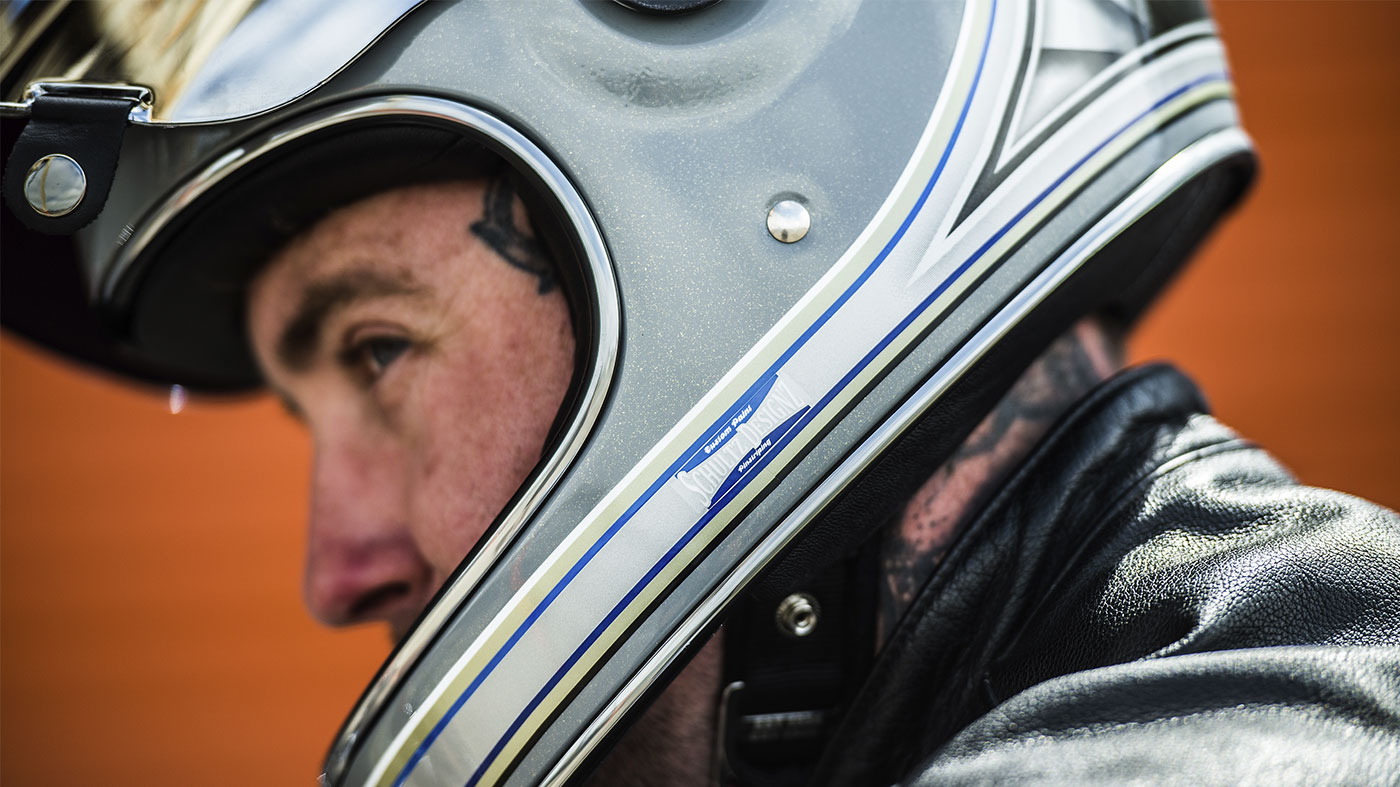 Thanks for hanging with us, Schultz, and for designing such a rad helmet
Get to know more about Schultz by visiting his shopfollowing him on instagramwatching his rad how-to videos