How did you approach your training after Nationals? Did you rest at all or keep going to try for a single peak?
My approach to training after Nationals isn't anything incredibly special. My goal for cross season is always to be at my prime for Nationals and then hold that fitness into the World Championships. My coach and I definitely did well hitting my peak coming into Nationals— from the point on it's all about keeping the engine hot. I raced the weekend in-between Nationals and Worlds which is a luxury we are fortunate bough to have in mid-January in California. Other than that we just focus on staying healthy and keeping the legs fresh.
When are you traveling to Luxembourg?
I'm traveling to Europe on the 18th of January. I'll be headed to the USA Cycling compound in Sittard, Netherlands where most of the other worlds athletes and I will stay. On the 22nd I race the final World Cup in Hoogerheide before traveling to Bieles, Luxembourg on Wednesday the 25th for Sunday's championship race.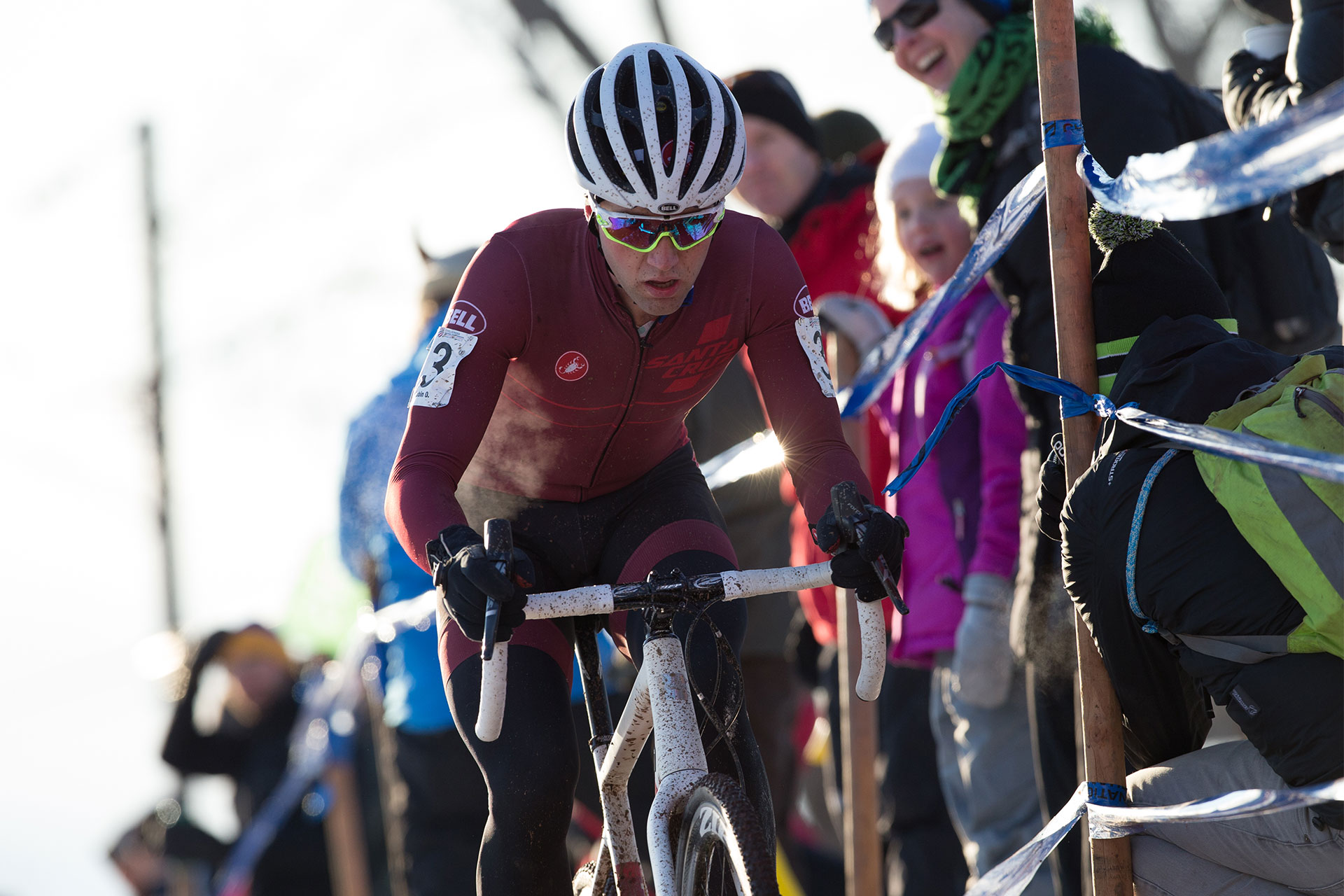 Will you be making any equipment changes ahead of Worlds? How does your road position compare to your 'cross position?
As far as equipment goes, I won't be changing much going into Worlds. I've got some sweet custom red, white, and blue Crank Brothers pedals for one of the bikes for the big day, but that's about it. All of our equipment has been flawless all year so as they say, "If it ain't broken, don't fix it." I do have a slightly different position on my cross bikes compared to my road bike. I run my seat height the same, but run a shorter reach and higher stack on my cross bikes. A shorter and higher cockpit enables me to pick the front of the bike up a bit easier for hoping barriers and other general bike handling.
Speaking of equipment, what tires were you on at Nationals?
Nationals posed lots of crazy conditions. I started the day on Clement's MXP and finished the day on that tire. The course began to harden and freeze while we were racing and I think I made a mistake by not changing on the LAS. The LAS is am insanely capable file tread which would have given me more surface area on the ice and thus more traction.
Finally, what's your favorite pre-race meal? Any dietary superstitions?
I'm pretty flexible as far as pre-race meals go. Lots of people like white rice and eggs, which used to be my favorite. Now I usually stick to pasta with some olive oil and salt about three hours before the race. I don't really have an pre-race superstitions as far as diet goes, although back when my bikes had quick release I'd religiously check both front and rear skewers on the start line of every race I entered. Needless to say I'm pretty stoked to be on thru axles now.