Mike McCarthy was a world champion, two-time Olympian and multiple national champ. But he was never into self-promotion: "I look back, see all these magazine covers with Americans on them and I think, where was I?" McCarthy was exactly where he wanted to be — enjoying the sport. When asked his preferred event, he says, "I liked any race I had success in. I look at it holistically. I'm not just a track racer or crit racer or road racer. I'm a bike racer."
New York City native McCarthy grew up near Central Park, where he learned to compete in early-morning road races. Now in his late-40s and an executive with Zwift, he lives in Marin County, Northern California, and says riding is as important to him today as when he raced in Central Park.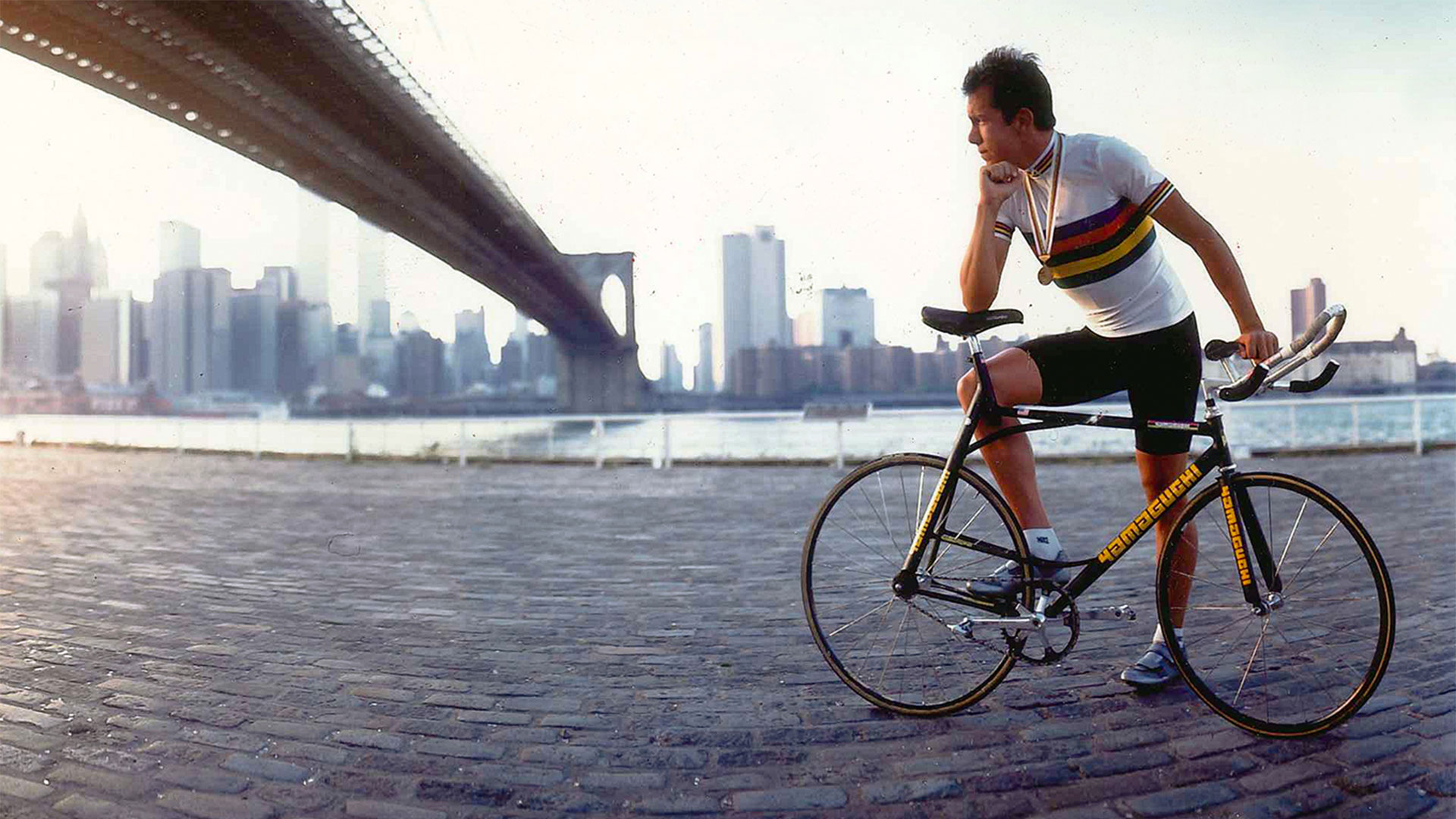 When McCarthy was in his early teens, racers were switching from leather "hairnet" helmets to heavier hardshells. But when he began track racing the helmets were designed for aerodynamics, not protection — as at the 1988 Seoul Olympics on the U.S. team pursuit squad. "We had what we called eggshell helmets," he recalls. "You couldn't drop that helmet and not believe it was gonna splinter into lots of pieces."
Aero helmets and bars also played a major role in the grueling 100-kilometer team time trial at the 1989 road worlds in Chambéry, France, where McCarthy's four-man U.S. team took an unprecedented fourth place — behind East Germany, Poland and the Soviet Union — when state-sponsored sport was at its zenith. "We could ride cow-horn bars, clip-on bars [like Greg LeMond's at the '89 Tour de France] or aerobars [used by triathletes]," McCarthy says. "We chose the aerobars. Greg had proven this crazy innovation was worth something, and we put another stamp on that with the U.S. team coming fourth. That was my second favorite result in all my years of bike racing."
Cycling was at a crossroads in the early '90s. Some athletes retained amateur status for the Olympics, while McCarthy turned pro, missing the '92 Games in Barcelona — where Britain's Chris Boardman scorched to gold in the pursuit on a carbon bike created by Formula One's Lotus team. "When I watched Boardman on the Lotus Superbike, I was really glad I'd turned pro," McCarthy says. "And when Shaun Wallace showed up with the same machine in Colorado Springs, I was really nervous."
Britain's Wallace was a top contender for the upcoming track worlds in Valencia, Spain, so McCarthy asked U.S. team frame builder Koichi Yamaguchi to design a new bike. "I needed something to psych me up to compete against the Lotus," McCarthy says. "My barometer for how cool a bike was, I wanted to be scared the first time I rode it, whether it would stay together or not — and it did. It had pieces of duct tape on the bars…but I said, 'It's fine, don't mess with it, Koichi!' I got the bike a week before we left for Spain.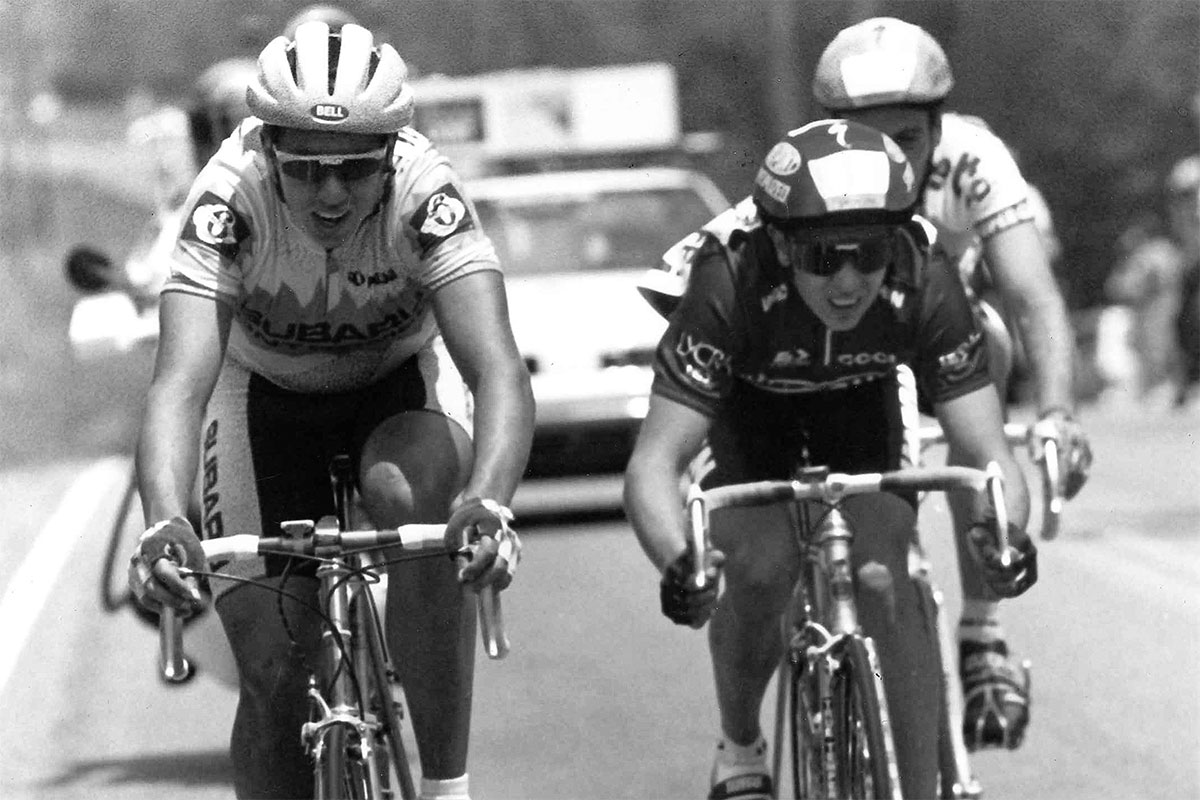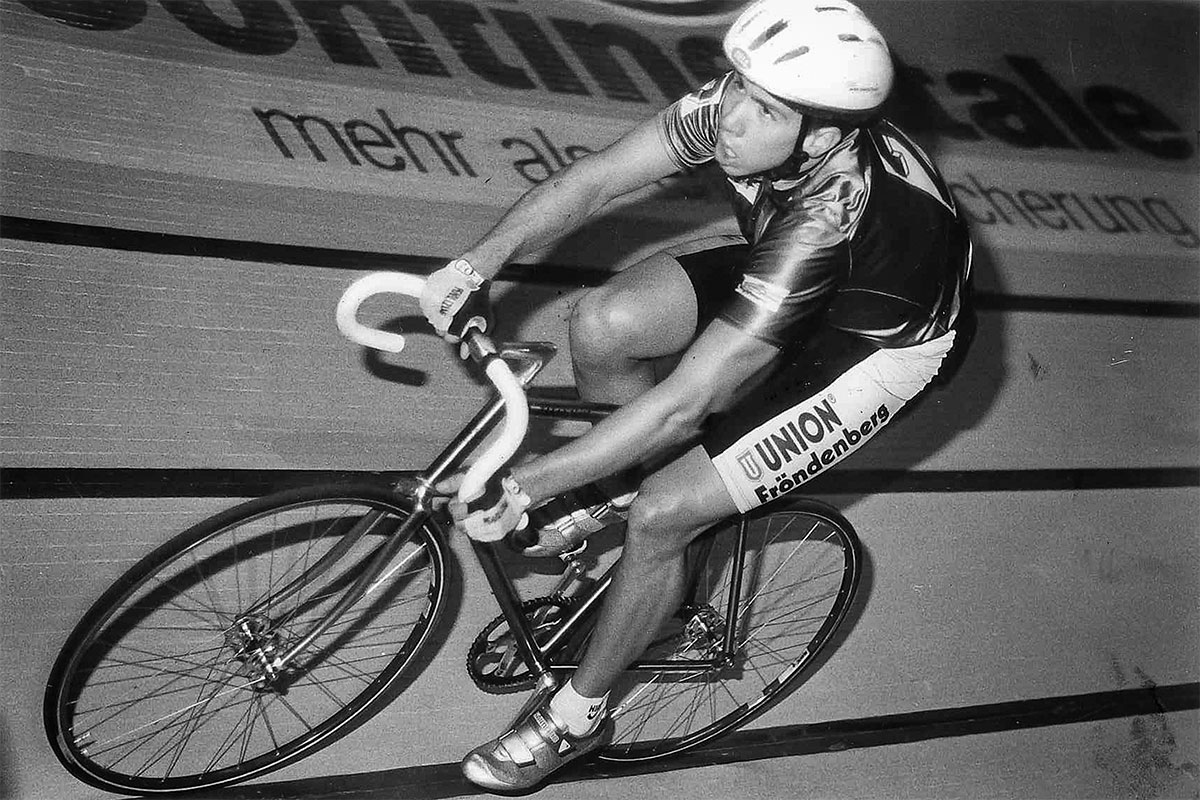 In the spirit of the American bike racer from the 1970s, '80s and early '90s, the tech was whatever we could put together — Russian Fluid disc wheels, baggy skinsuits we'd call aero. And that was the first year we'd use helmets that would actually protect the head. The Bellair helmet had two air-pump buttons at the back to allow a custom fit.
Mike McCarthy
As for preparation, McCarthy says, "The six weeks leading up to worlds were the only time in my 17 years of racing I completely committed to the sport. I was by myself, living in a little basement in Colorado Springs, training three times a day. I was super skinny and at a level I'd never been before…and never was after that."
McCarthy raced brilliantly in Spain. After qualifying fourth fastest, he defeated French TT specialist Armand De Las Cuevas in the quarterfinals; overcame defending champion Francis Moreau of France in the semis; and faced Wallace in the final. Despite the Briton riding the Lotus, McCarthy dominated from the first kilometer to win gold.
McCarthy's world title earned him a lucrative deal to ride five of Europe's six-day track races: Dortmund and Munich in Germany, Bordeaux in France, Ghent in Belgium and Zürich in Switzerland. "It's pretty cool when you get out there and you're taking a lap with Olympic champ Olaf Ludwig in Munich with 20,000 people cheering. That's a different world! You're racing 200 kilometers a night, six days in a row, and I did that for 36 days with six days off in between. The postscript was, I rode myself into the ground and got a sickness that lasted eight months and shook me up for almost three years…."
Diagnosed with the Epstein-Barr syndrome, McCarthy didn't return to a national level until 1995 — when he made the U.S. team for the Atlanta Olympics. By then, McCarthy recalls, "the big tech revolution came in," with wild aero designs — especially in McCarthy's event, the 4-kilometer team pursuit. The U.S. came up with Project '96, producing a monocoque carbon-fiber bike with no top tube or seat stays, a three-spoke front wheel far smaller than the rear disc, and a long-tailed helmet that sat snug to the back.
"That's where I realized the sport had changed," McCarthy says. "It may have been before the term 'incremental gains' was coined, but that's where it started." But other nations' technology won in Atlanta, where Australia eliminated the U.S. in the quarterfinals.
Back to road racing, McCarthy took stage wins in the national tours of South Africa, Taiwan and Japan. Analyzing his form, McCarthy says, "Maybe I'm not the most physiologically gifted bike rider…and I'm a little impatient by nature. I loved the final — but getting to that final hour could drive me bananas. But whether it was being in a break all day or winning a field sprint, it was all really fun."
Mike McCarthy ended his pro cycling career at age 30 after his Epstein-Barr returned. He was inducted into the U.S. Bicycling Hall of Fame in 2010.