When Leonard Harvey Nitz attended his first world championships as a junior bike racer in 1975, no American had won a medal at the world or Olympic level in seven decades.
As Nitz says: "American bike racing was in the stone ages. At junior worlds, I was warming up in blue jeans. I didn't even own a pair of tights!" And though he went on to race at three Olympiads and won two medals in the '84 LA Games, he remained a true amateur. "A lot of people wondered why I never turned pro," he says. "But I was very happy where I was at."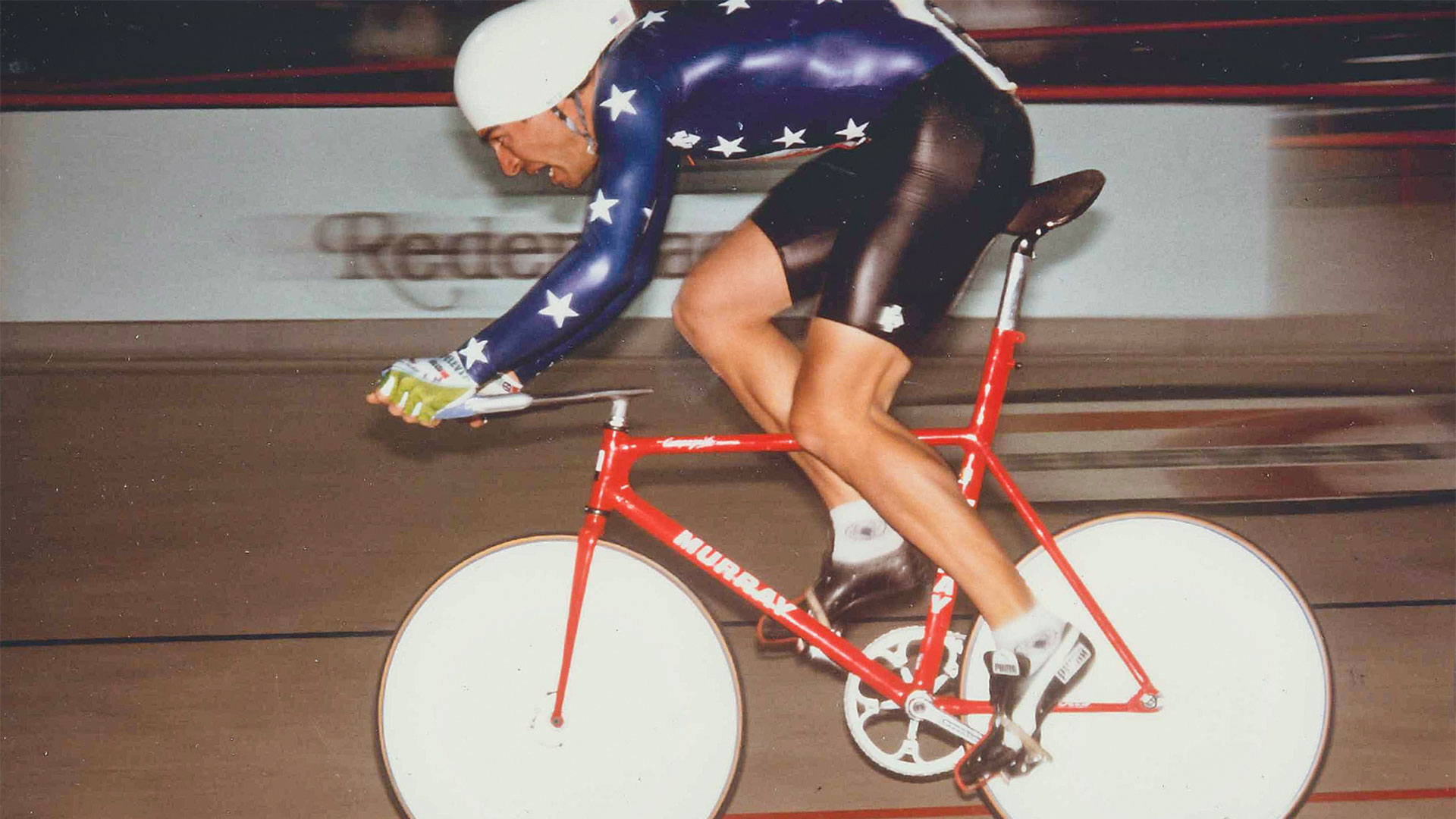 Born in Ohio, Nitz moved with his family to Northern California when he was a year old. Today, at age 60, he still lives in the Sacramento area, where he's a highly respected cycling coach — and masters racer. Nitz says the Olympic spirit is something that's been with him since childhood: "Every Olympic Games, my whole family would sit in front of the TV. And when I was about 11 and met my first Olympian, speed skater Bill Disney, I was so much in awe. Around the same time, I met another Olympic speed skater, Buddy Campbell, who was also a track cyclist. He said, 'Anybody can become a world champion if they desire it deep enough and they have the willpower to train hard enough.' So I wondered if I could too … ."
Nitz saw his first bike race at the Encino Velodrome in Los Angeles. "I was thinking, these guys are nuts," he says. "I'd never ride a bike without brakes." A few years later, when Nitz was 15, "a kid down the street talked me into riding the Davis Double Century. It took me like 17 hours — and took me two months to recover from!" But a year later, he repeated that 200-mile ride.
At 17, Nitz and "that kid" began bike racing. "My first race was the Tour of Nevada City, one of the hardest races in California! I was lapped. My second race was the Chico Criterium. I got lapped by a guy on a solo breakaway. I jumped on his wheel, but two laps later he turned around — I looked so bad and had no shaved legs — and he told me to get off his wheel. That gentleman's name was Jacques Boyer [who'd become the first American to ride the Tour de France]."
Despite his inauspicious start, Nitz raced once more that year, the district road championships. "There were 109 juniors on the line," he recalls. "It was a dead-flat circuit in the San Joaquin Valley and came down to a field sprint. I ended up getting third. I was pretty excited about that!" Excited enough to start racing every weekend the following year. And despite saying he'd never do track racing, he took it up and promptly won the individual pursuit at the junior worlds trials. Within two years, he raced the individual and team pursuit events at the Montreal Olympics. He was living the dream.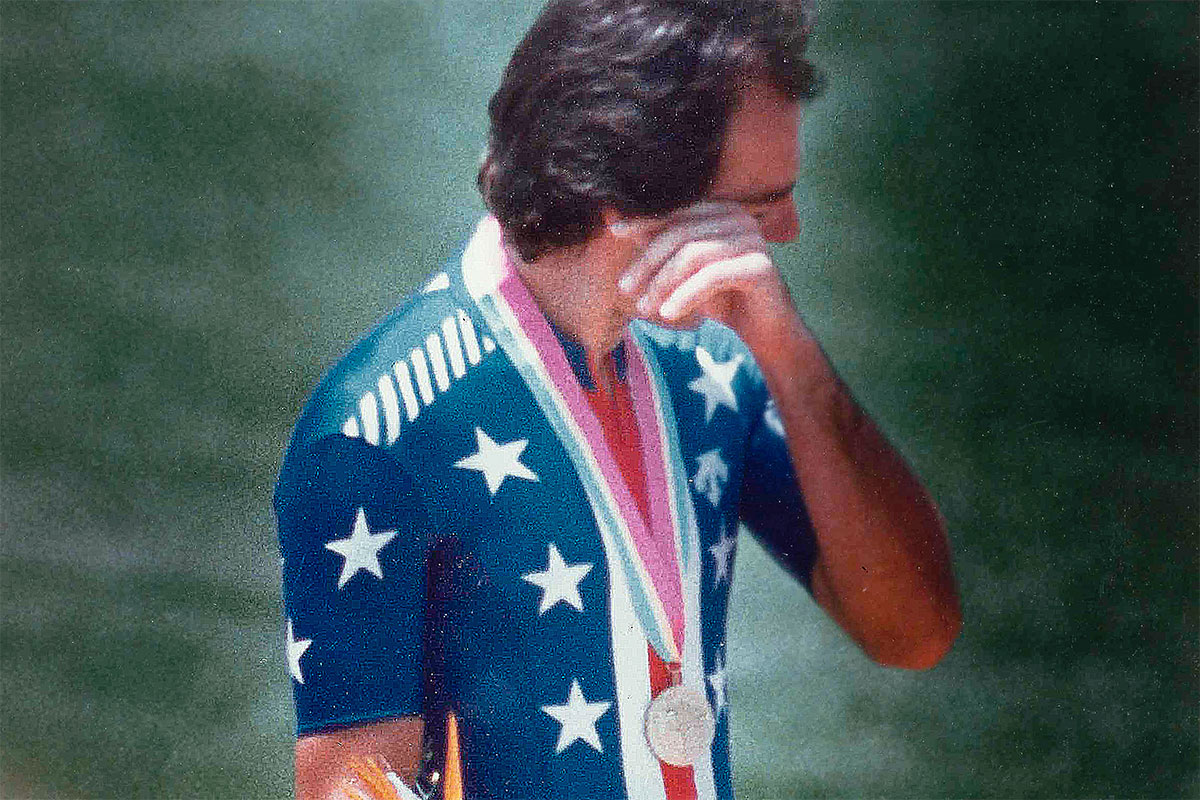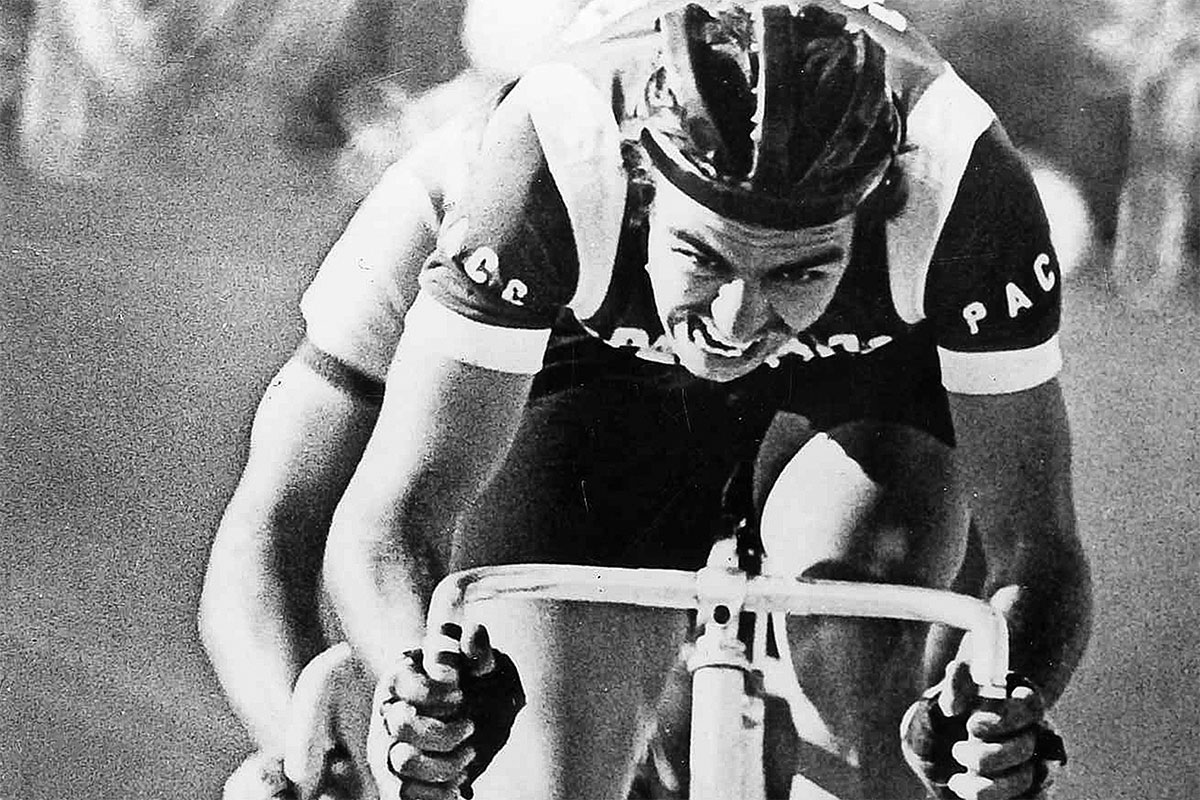 I was still training without a helmet. But I grew up on a motorcycle and always wore a helmet on my dirt bike.
Leonard Harvey Nitz
So when he was given one of the first Bell bicycle helmets in 1975, he first used it for mountain biking. "I was falling down a lot," he says, "so I wore the helmet all the time. And when I got on a road bike, I felt naked." As a result, Nitz was one of the first road racers to use a hard-shell helmet — a decade before they became mandatory.
That rule didn't get approved until 1986, so Nitz's favorite Bell helmet from the '84 Olympics "was just about aerodynamics." He wore that aero helmet to win medals in both pursuit events. His opponent in the individual pursuit third-place final was Dean Woods of Australia. "I was a second-and-a-half down on him after three laps," Nitz says. "So I had to get into my head: 'This is the Olympics Games — you've got to get going.' With three laps to go, I was still down. It was now or never. I caught him by surprise. I was sprinting, but I was dying, coming apart. My arms were twitching, starting to lose control of the muscles. I was ahead with a lap to go, but he came back — and I won by just five-hundredths of a second. I was ecstatic getting that bronze medal!"
Nitz again faced Dean, each with their three teammates, in the team pursuit final. Unfortunately, one of the Americans pulled a foot out of his pedal on the start line. "We tried hard," Nitz remembers, "but with only three guys we couldn't beat the Aussies." So it was silver for the home team. Nitz went on to take a bronze medal in the points race at the '86 worlds in Colorado Springs, and rode his third Olympics at Seoul in 1988.
Through his elite career, Nitz had occasional crashes, including one at the '87 track nationals. "My front wheel dropped off during the kilo," he says. "The doctor said he wouldn't touch me. 'But I just fell on my face,' I pleaded. He called in the plastic surgeon, and it turned out to be 100 stitches."
Nitz says his most serious crash was his own fault. "I got back from a bike race, unpacked my bike from the plane, spun my pedal on, and the telephone rang. I answered the phone and didn't tighten the pedal. The next day when I'm riding, the pedal starts unspinning. I'm doing 5 miles per hour up a hill, step down, pedal comes off, foot goes down, my whole body rotates and I'm going down, hitting my back and whiplashing my head to the ground. The whole back end of my helmet was caved in. I just said to myself, my helmet just saved my life — and that was a Bell helmet."
Leonard Harvey Nitz was inducted into the U.S. Bicycling Hall of Fame in 1996.
Limited Edition All-Star Zephyr Available for Pre-Order
Stretching back to our founding in 1954, Bell products have been bred in racing and refined through competition. In celebration of our long heritage in road racing, Bell will be producing 54 Limited Edition All-Star Zephyrs. These highly limited Zephyrs are available for pre-order with delivery in early August and are priced at $230 USD.
Please contact your Bell retailer for more details.